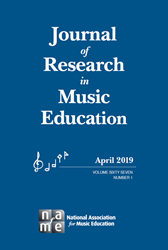 "Making research available to the entirety of the NAfME community helps everyone to know what questions are being asked, what methods are being used, and what conclusions are derived. It allows new finding to be considered and questions to be posed."
RESTON, Va. (PRWEB) April 03, 2019
As of April 2019, the flagship Journal of Research in Music Education (JRME) is accessible electronically by all members of the National Association for Music Education (NAfME). All members can now log on to the website at bit.ly/JournalResearchMusicEducation to read cutting-edge research on a wide range of music education categories. (A print edition of the JRME will continue to be available for an additional fee.)
Launched in 1953 under the editorship of Allen Britton, the JRME includes peer-reviewed research on music teaching and learning. Topics include various aspects of music pedagogy, history, and philosophy. Articles address vocal, instrumental, and general music at all levels, from early childhood through adult. Both qualitative and quantitative methods are used.
According to current JRME editor Steven J. Morrison of the University of Washington in Seattle, knowledge must not only be gained through research; it must also be shared. In the January 2019 JRME issue's "Forum" column (p. 353), he stated, "Making research available to the entirety of the NAfME community helps everyone to know what questions are being asked, what methods are being used, and what conclusions are derived. It allows new finding to be considered and questions to be posed."
Morrison continues, "It opens doorways to new resources and opens avenues for discussion, application, brainstorming, and problem-solving." Removal of barriers to published research will benefit researchers and teachers alike.
Deborah A. Confredo of Temple University in Philadelphia and chair of the NAfME Society for Research in Music Education also helped make this JRME access a reality. She says, "On behalf of the Executive Committee of the Society for Research in Music Education, I applaud NAfME for making it possible for the entire membership to have equal and free access to the Journal of Research in Music Education as a part of the membership package."
Confredo adds, "Research is for and about all of us. It pertains to teachers, students, and makers and consumers of music. Research encompasses paths of science that help us learn and flourish. Curiosities of our music education community are realized in the publication of the JRME. We are excited to know that this access is available to all and look forward to continued growth through research in our profession."
A strong advocate of research as a resource for all teachers, Wendy Sims of the University of Missouri in Columbia states in the Spring 2019 Missouri Music News: "All thoughtful, active professionals should add the research literature in their field to their current reading lists. E-mail alerts containing the table of contents when a new issue is published can serve as an excellent reminder, and are available to anyone wishing to receive them . . . I encourage all NAfME members to peruse Update and JMTE [Journal of Music Teacher Education] now [via bit.ly/NAfMEperiodicals], sign up for e-mail alerts, watch for the announcement from NAfME that the JRME free access for all members has been activated, and take advantage of this new opportunity by reading articles of interest from that journal, too!"
National Association for Music Education, among the world's largest arts education organizations, is the only association that addresses all aspects of music education. NAfME advocates at the local, state, and national levels; provides resources for teachers, parents, and administrators; hosts professional development events; and offers a variety of opportunities for students and teachers. The Association has supported music educators at all teaching levels for more than a century. With more than 60,000 members teaching millions of students nationwide, the organization is the national voice of music education in the United States.
Follow NAfME on Twitter (twitter.com/nafme) and on Facebook (facebook.com/nafme).
For additional information, contact Catherina Hurlburt at catherinah@nafme.org or 703-860-4000, ext. 216.