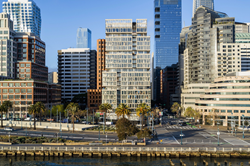 Using a holistic, integrated approach to architecture, structure, interiors, and graphics, we crafted a series of residences that are more richly connected to their place than any building of this type in the city
SAN FRANCISCO (PRWEB) May 24, 2021
Landmark locations are a rare breed especially within the world's most celebrated cities, so for the team behind One Steuart Lane in San Francisco, the challenge became creating a residential tower worthy of its iconic, last-of-its-kind waterfront location along the city's famed Embarcadero.
More than a decade in the making, the building is preparing to make its debut this summer as the city's only waterfront condominium offering and a leading example of sustainable architecture and design on the West Coast, as it aims to achieve LEED Gold certification. Skidmore, Owings & Merrill (SOM), one of the most influential architecture, interior design, engineering, and urban planning firms in the world, is the visionary group that has helped bring this masterpiece to life.
Situated between the traditional masonry loft buildings of the city's historic waterfront and the modern towers of the Financial and Transbay districts, One Steuart Lane captures the best of both worlds with warm, natural materials and minimal, modern details. The tower is carved into a series of three-story volumes created with the connection of massive wraparound terraces. Each volume is divided horizontally by recessed balconies trimmed in stone, metal, and clear glass. The resulting form is deceptively simple, gradually stepping back on alternating sides from the street to the sky, creating visual interest and variety in the residential layouts suitable for a diverse range of lifestyles.
The building's delicately modulated form is clad in a slender, variegated grid of Silver Roman Travertine, personally sourced from Tuscany by the project team. The facade's high-performance aluminum structure is concealed by the cubic stone, creating a simple, abstract composition of stone and ultra-clear glass.
Freed of major columns by an innovative structural approach, the largest windows are transparent expanses nearly eight-feet wide and nine-feet high, both insulated and laminated for thermal and acoustic performance, providing completely clear glass from the ceiling down to the French Oak wood floors.
"Our design vision for One Steuart Lane was inspired and informed by its extraordinary waterfront location," said Mark Schwettmann, design director at SOM. "Using a holistic, integrated approach to architecture, structure, interiors, and graphics, we crafted a series of residences that are more richly connected to their place than any building of this type in the city."
Never before achieved in a San Francisco residential building, on every three to four floors, each Bay-facing residence is enclosed with enormous structural-glass sliding doors, some as much as 16-feet wide by nine-feet high, which separate at the corner to completely open the homes to their wraparound, 40-foot terraces and Bay views. In these one-of-a-kind, indoor-outdoor spaces, the interior and exterior floor and ceiling are completely flush for an unprecedented degree of connection to the sky, water, and hills beyond.
The architecture and interior finishes are designed to be both effortless and luxurious, providing a refined urban living environment with incredible views of San Francisco and the Bay. Light, simple, and timeless materials like Fumed La Borra French Oak, Carrara and Glorious White marbles, satin nickel fixtures, and polished white lacquer cabinet doors and trim reflect the best elements of the culture and landscape of Northern California. Interior layouts seamlessly flow from one space to the next and always draw the eye to views outside.
The two-story lobby features a design by Rottet Studio, which brings the exterior materials inside and enriches them with luminous extruded glass, pristine fabrics, opulent details, and timeless proportions.
Beyond physical beauty, One Steuart Lane achieves the city's highest level of environmental performance without sacrificing luxury. Aiming for LEED Gold certification, the building's main eco-centric features include a state-of-the-art mechanical system that allows heat to be transferred from one side of the building to the other, taking advantage of San Francisco's bright sunlight, even on cool days. Solar water heaters on the roof provide renewable energy, saving 250,000 pounds of CO2 emissions, compared to a gas boiler, annually. The commitment to the union of beauty and performance concludes at the top of the tower, where evacuated tube solar arrays collect energy while allowing light to gently filter through the top of the building.
Priced from $1.4 million to over $10 million, each of One Steuart Lane's 120 residences evokes a sense of incomparable sophistication, boasting floor-to-ceiling glass and over nine-foot ceiling heights, optimizing the colors that radiate off the water's edge. Residences range from one- to three-bedrooms, spanning in size from approximately 900 to 3,000 square feet, as well as remarkably rare penthouses measuring up to 6,200 square feet. To learn more, visit OneSteuartLane.com or call 415-904-2540.
About One Steuart Lane
Set directly along San Francisco's prized Embarcadero, One Steuart Lane is the final opportunity for new residential development on the city's most sought-after waterfront avenue. The 20-story building is refreshingly intimate and features 120 exquisite condominiums, many of which boast unobstructed Bay and bridge views and private outdoor living spaces with wraparound terraces. Meticulously designed, One Steuart Lane strikes an effortless balance between a deeply modern sensibility and a timeless San Francisco presence. The iconic development features architecture and residential interiors by the renowned firm of Skidmore, Owings & Merrill (SOM) and amenity interiors by Rottet Studio – a fitting pedigree for the city's last opportunity for exceptional waterfront living. Residents will be afforded incomparable open and endless vistas, from Cupid's Span and the Ferry Building's clocktower to the Bay Bridge and the Island of Yerba Buena and beyond. There is nothing like One Steuart Lane in San Francisco, and perhaps the world. Completion is expected in Summer 2021. For more, visit OneSteuartLane.com.
Paramount Group, Inc.
Headquartered in New York City, Paramount Group, Inc. is a fully-integrated real estate investment trust that owns, operates, manages, acquires and redevelops high-quality, Class A office properties located in select central business district submarkets of New York City and San Francisco. Paramount is focused on maximizing the value of its portfolio by leveraging the sought-after locations of its assets and its proven property management capabilities to attract and retain high-quality tenants. For One Steuart Lane, Paramount Group is supported by Project Management Advisors Inc. (PMA), a national real estate advisory firm providing consulting services.
SRE Group Ltd.
Founded in 1993, SRE Group Ltd. was listed on The Stock Exchange of Hong Kong Ltd. (Stock code: 01207.HK) in 1999 and became a member enterprise of CMIG Jiaye under the China Minsheng Investment Group in 2015. After more than 20 years of development and growth, SRE Group Ltd. has successfully made footprints with a number of high-end residential and mixed-use projects in more than 20 major cities including London, San Francisco, Sydney, Hong Kong, Beijing and Shanghai. In accordance with the concept of "Finance + Industry + Real Estate" integration, and to accelerate the enterprise transformation progress, SRE Group Ltd. implements a dual driven strategy of real estate investment and development to gradually build three core businesses: financial city complex development, characteristic town development, as well as asset mergers and acquisitions.
About Skidmore, Owings & Merrill
Skidmore, Owings & Merrill (SOM) is a global collective of architects, designers, engineers, and planners responsible for some of the world's most technically and environmentally advanced buildings and significant public spaces. From a strategic regional plan to a single piece of furniture, SOM's designs anticipate change in the way we live, work, and communicate, and have brought lasting value to communities around the world. The firm's approach is highly collaborative, and its interdisciplinary team is engaged on a wide range of international projects, with creative studios based across the globe.
About Polaris Pacific
Polaris Pacific is the leading real estate sales and marketing group for today's new residential communities. Drawing on a 30-year legacy of success in the Western United States, Polaris Pacific specializes in new development, leveraging the latest tools and technology to create a clear path forward. Long-term client relationships with industry leaders provide the company's platform for innovation, establishing Polaris Pacific as the irrefutable expert in major urban markets. For more information, please visit PolarisPacific.com.
###