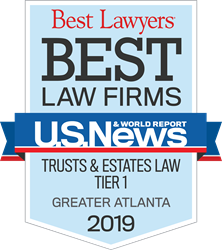 "We are thrilled to be recognized by our clients and peers as a Tier 1 firm for the seventh consecutive year."
ALPHARETTA, Ga. (PRWEB) November 01, 2018
Morgan and DiSalvo, P.C., is pleased to announce that the firm has been named to the 2019 U.S. News – Best Lawyers® "Best Law Firms" list as a Tier 1 regional practice in Trusts and Estates for the seventh consecutive year.
Firms included in the 2019 "Best Law Firms" list are recognized for professional excellence with persistently impressive ratings from clients and peers. The Metro Tier 1 status earned by Morgan and DiSalvo is the highest regional status given. Achieving a tiered ranking signals a unique combination of quality law practice and breadth of legal expertise.
"We are thrilled to be recognized by our clients and peers as a Tier 1 firm for the seventh consecutive year," said Richard M. Morgan, partner at Morgan and DiSalvo. "This simply reinforces our resolve to constantly provide the highest level of service and expertise."
Ranked firms, presented in tiers, are listed on a national and/or metropolitan scale. Receiving a tier designation reflects the high level of respect a firm has earned among other leading lawyers and clients in the same communities and the same practice areas for their abilities, their professionalism and their integrity, according to U.S. News – Best Lawyers.
About Morgan and DiSalvo, P.C.
Morgan and DiSalvo, P.C., consists of attorneys Richard Morgan and Loraine DiSalvo, of counsel attorney, Diane Weinberg, and their team. Their reputation for personal service and compassion, combined with their expertise in estate planning, tax law, elder and disability law, and dispute resolution, has earned Morgan and DiSalvo the highest ratings from multiple attorney rating agencies, including the most well respected, Martindale-Hubbell Peer Review Rating every year since the firm's inception in 1995. Additionally, the firm is recognized by U.S. News & World Report as one of the few select firms in Georgia to achieve its "Metro Tier 1" rating in the area of Trust and Estate Law. For more information visit http://www.morgandisalvo.com