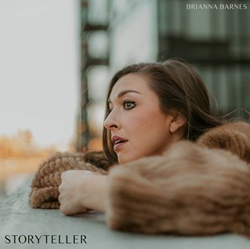 NEW YORK (PRWEB) April 05, 2021
Available on streaming services including Spotify, iTunes and Amazon comes Brianna Barnes debut single: Storyteller. Produced in partnership with Morgan Entertainment Group and recorded by 3x Grammy Award Winning Engineer Denise Barbarita Storyteller couples faith, mystery and wonder into one harrowing single. With the introduction of this raw and reflective track, Brianna marks the first single off her debut EP 'Hierophanies: Manifestations of the Sacred'. Set to be delivered Spring 2021 and bound to top the charts, the New York based artist's unmistakable voice couples the grit of folk rock with the vulnerability of the classic Americana flare.
After the unfortunate demise of musical theater due to the Covid-19 pandemic, Brianna seized the opportunity to turn her hardships into her first solo album. "I have used the new space in my life to dive deep into my creativity and uncover a new level of passion for my songwriting", states Brianna. Having experienced the severe impact 2020 had on the creative arts community, Barnes has pledged to pay every artist involved in the creation of Storyteller, and her complete album, their full fee.
Storyteller is available for pre-save via Distrokid now and everywhere April 4th.
Download cover art and track HERE.
PRESS CONTACT:
Kaleigh Kramer
Michele Marie PR
Kaleigh@Michelemariepr.com
646.863.3923
ABOUT BRIANNA BARNES:
Brianna Barnes is a multi-disciplinary storytelling artist based in New York City. Her songwriting was recognized by the New York Musical Festival in 2017 where her songs, Illuminate the Night and United won a coveted off-Broadway performance. She won awards of Best Score and Best Musical from The New York Theatre Festival as the composer/lyricist, director, and producer of her original musical, Let There Be Light in 2018. She then made her Green Room 42 headlining debut with her concert of original music, Dear Dream, in 2019. When the world shut down in March of 2020, Brianna decided it was time to record an album of her original music. After a wildly successful Kickstarter campaign, she recorded 8 original songs at MONOLisa Studios in New York City with Grammy Award Winning Engineer, Denise Barbarita. The album features arrangements by James Rushin and musicians Joshua Roberts, Sus Vasquez, Will Hack, Jay Julio, and Elisa Winter. Mixed by Denise Barbarita and Mastered by Alan Silverman of Arf! Mastering (Norah Jones, Judy Collins).