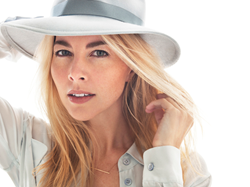 "A phenomenal talent whose feel for classic soul music is bone deep...This woman is on fire." — The New York Times
Florence, KY (PRWEB) April 28, 2016
The Kentucky Symphony Orchestra closes its 24th season with the versatile vocal stylings of Broadway actress and recording artist Morgan James. As Motown Records founder Berry Gordy, Jr. said "She sings it all." Ms James attended the prestigious Juilliard School to study opera. After graduating Morgan turned to Broadway, where she has appeared in the original Broadway casts of Motown: The Musical, Godspell (revival), Wonderland and The Addams Family. Having grown up on R&B and soul recordings, Morgan followed her muse from opera, to Broadway to the sounds of soul icons like Nine Simone, Aretha Franklin and others. She even began writing her own music. Today Morgan James has two recordings out and has garnered tens of millions of YouTube hits as a solo artist, and performing with Scott Bradlee's Post Modern Jukebox(PMJ).
The program, devised by both Morgan and KSO Music Director James Cassidy, essentially traces Morgan's musical journey through various genres. Cassidy said last spring "I was actually looking for Blue Grass programming possibilities, when I accidentally came upon Post Modern Jukebox and Morgan. As I searched to find out more about this soulful soprano's background, I uncovered her Broadway and classical roots and thought, this is quite the story and talent to share with our audience." Cassidy continued, "So the idea of a blonde soubrette soprano winding up in Motown led naturally to the title SOULbrette (Puccini to Prince).
The program's first half opens with Bernstein's Overture to Candide. Then Jeanne Tessori's original hit for Kristin Chenowith —"The Girl from 14-G" introduces MJ as the opera, and jazz singer. Morgan's classical chops are on display in Puccini's "Chi Bel Sogno di Doretta" from La Rondine and Richard Strauss' song "Morgen" (morning). Broadway enters the fold with Barbara Cook's feature by Wally Harper — "It's Better with a Band." Aaron Copland's "Laurie's Song" from the opera The Tenderland gets MJ's poignant treatment, before the vocal fireworks and comedy of "Glitter & Be Gay," also from Candide, close Act I.
After intermission, Morgan James offers her soulful side, singing two songs made famous by the late Nina Simone ("I Put a Spell on You," "Little Girl Blue"), then a PMJ favorite Maroon 5's "Maps" in an R&B adaptation. Stevie Wonder's "If It's Magic" gets a literal "harp and soul" treatment before the KSO's Boogie Band offers the Tower of Power instrumental "Mr. Toad's Wild Ride." Morgan returns with a couple of tunes from her most recent album — "Hunter" and the late Prince's "Call My Name." Aretha Franklin's popular "Think" (featured in the 1980 film —The Blues Brothers) and Morgan and Doug Wamble's "Say the Words" close the evening's chapter, but not the book on this very special and versatile performer. Morgan will be available to meet and sign her CDs in the lobby following the performance.
The Kentucky Symphony Orchestra traces the musical steps of soprano Morgan James from opera, classical to Broadway, to R&B and soul in one evening.— 7:30 p.m., Saturday, May 14 at Florence Baptist Church (Mt. Zion), Florence, KY. Reserved seating tickets are $24, $32, $40 (children ages 6-18 are 50% off) and are available online, kyso.org, by phone (859) 431-6216 or at the door.
About the KSO:
The Kentucky Symphony Orchestra takes the "phony" out of symphony through live thematic concerts that culturally enrich, educate and entertain the residents of Northern Kentucky and Greater Cincinnati. The KSO performs throughout Northern Kentucky performing three series of concerts.