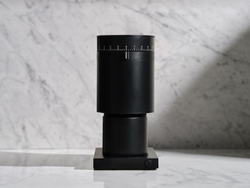 "Our ambitious goal three years ago was to design the best all-purpose grinder in the world, and we believe we've done just that with Opus – a true jack-of-all trades workhorse." - Jake Miller, Founder & CEO of Fellow
SAN FRANCISCO (PRWEB) February 21, 2023
Fellow, the specialty coffee gear company on a mission to help people brew ridiculously good coffee at home, today launches Opus. The powerful, all-purpose coffee grinder priced at $195 is unlike anything else on the market.
From true espresso to the coarsest cold brew, Opus unlocks coffee's true potential across the full range of brewing styles. Designed with simplicity and ease-of-use in mind at every step, Opus promises to change the way people brew coffee at home, at an unbeatable price point.
"Home grinders, especially those that are espresso-capable, are thought to be either too expensive, overly complicated or over spec'd, ultimately driving up the price," said Jake Miller, Founder and CEO of Fellow. "We designed Opus to address these consumer pain points and believe that no other electric grinder at Opus' price can match its versatility across the full grind range."
Opus opens up cafe-grade coffee at home, featuring:

Performance: C6-40 Burly Burrs™, a 6-blade 40 mm conical burr set and a powerful motor with 6Nm of torque at the burr together produce outstanding grind consistency and flavor. The direct drop-down architecture from load bin to catch radically reduces grind retention, while the anti-static technology and spouted catch eradicate mess.
Range: With 41 easily adjustable settings, plus expanded range and granularity using the inner ring, Opus is a rare all-purpose grinder that can grind for any brew type ranging from a true 9-bar espresso, to pour-over, French press, cold brew and more.
Intuition: Designed with ease of use in mind at every step, Opus includes a volumetric dosing lid to measure beans and a handy grind guide so users know exactly how to grind for each brewing style.
Form and Function: Like everything Fellow designs, Opus was made to be countertop eye candy, while performing at the demanding standards of the world's best baristas.
"Our ambitious goal three years ago was to design the best all-purpose grinder in the world, and we believe we've done just that with Opus – a true jack-of-all trades workhorse," added Miller.
Customers can purchase Opus for $195 at https://fellowproducts.com/pages/opus-is-coming.
###
About Fellow
Fellow is on a mission to help people brew ridiculously good coffee at home. Inspired by the need for high quality equipment to properly brew high quality coffee, Fellow brings the confidence of the specialty coffee world into the lives of everyday coffee lovers, from the curious to the prosumer.
Fellow's products and services include: kettles, grinders, French presses, mugs, and a seasonal selection of exclusive, limited release coffee from roasters around the world. Fellow's Stagg EKG Electric Kettle, Ode Brew Grinder and Carter Move Mug have won a number of renowned awards and accolades, including the Specialty Coffee Association Awards, the Red Dot Design Award, and the Dezeen Awards.
Founded in 2013, by CEO Jake Miller, Fellow is headquartered in San Francisco, California. For more information about Fellow visit http://www.fellowproducts.com.