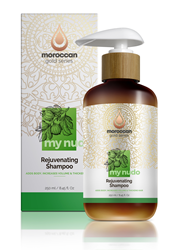 NEW YORK (PRWEB) January 13, 2021
As consumers search for effective natural solutions to care for pandemic-stressed and shedding hair, professional Moroccan Gold Series (http://www.moroccangoldseries.com) introduces My NuDo Rejuvenating Shampoo, an innovative natural, drug-free solution for healthier, stronger, longer, and thicker hair.
This breakthrough unisex product provides a more natural way to keep hair looking its best while supporting scalp and hair follicle health. For many, results can be seen as soon as 2-3 weeks after initial use.
"We are especially pleased to introduce this unique rejuvenating formula and its primary use of natural ingredients," explains Udi Balva, CEO of Moroccan Gold Series. "Boosted by our exclusive new manufacturing technology, it's a noteworthy addition to our exclusive hair care lines."
My NuDo Rejuvenating Shampoo introduces a first-of-its-kind proprietary extraction technology from Israel that amplifies the potency of each natural ingredient for more effective results. Made for all hair types, this daily-use shampoo leaves strands smooth, shiny and frizz-free while it helps get to the root of hair issues to help build body, strengthen strands and prevent breakage.
Time-and-science-proven natural ingredients play a key role in the formula and include Arginine, Caffeine, Argan Oil, Avocado Oil, Cypress Leaf Extract and Ginseng Extract to nourish the scalp and follicles and to help create an optimal environment for healthy hair growth and fullness. It also combines ingredients containing calcium, iron, zinc and amino acids to further care for follicles.
Leading New York Dermatologist Michele Green, M.D. notes, "Stress-induced hair loss can cause excessive shedding. This can also be attributed to undue stress due to COVID-19. My NuDo is a new shampoo formulated with a proprietary blend of natural ingredients I recommend in addition to platelet-rich plasma (PRP), to support scalp health for those dealing with stress-induced hair loss."
My NuDo is also lauded by leading celebrity and salon stylists. High-profile colorist Joel Warren of Salon Project Salons at Saks Fifth Avenue shares, "Our clients continually ask us about hair shed and clean shampoo options. They're looking for something more natural that fits into their healthier lifestyles but that also works. I now recommend My NuDo for them."
Celebrity stylist Dior Sovoa, who works with leading entertainment industry clients, comments, "I've recommended My NuDo to clients with stressed, shedding hair. I also suggest it to clients who wear extensions or wigs to keep their own hair stronger and scalp and follicles healthier."
My NuDo Rejuvenating Shampoo is available nationally in salons and on https://moroccangoldseries.com as well as https://www.amazon.com/Moroccan-Gold-NuDo-Rejuvenating-Shampoo/dp/B08GP32SRR. Instagram: @mymoroccangold.
ABOUT MOROCCAN GOLD SERIES:
Florida-based Moroccan Gold Series is a six-year-old global professional salon brand offering the finest innovative luxury hair treatment and styling products.
Driven by a mission to create the highest levels of product performance, they reflect painstaking detail and perfection of formula. All lines are created with spa-quality ingredients that are lightweight to work faster and penetrate deeper for healthier, more luxurious-looking hair.
One founder of Moroccan Gold Series, Shimon Michaeli, was the creator behind the first brand that disrupted the professional hair care industry by introducing argan oil. Through the innovation of argan's use in hair products, the first mark of many was made by the exceptional team behind Moroccan Gold Series.
New natural My NuDo Rejuvenating Shampoo, the Moroccan Gold Series Argan Collection and new Black Truffle Hair Care are available in salons throughout the US and in seven countries internationally.