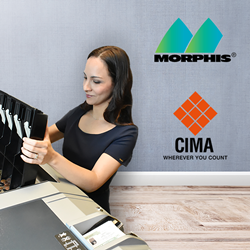 I am extremely excited that our businesses have aligned to collaborate both at a technical and commercial level
DALLAS (PRWEB) September 30, 2020
Morphis, Inc. and CIMA Cash Handling America Inc. are pleased to announce a strategic alliance in the US cash handling marketplace. The alliance integrates CIMA's innovative cash management hardware and Morphis' industry-leading currency forecasting and logistics software. With a combined 75 years of experience in the cash management business, CIMA and Morphis represent two of the industry's prominent players. The combined hardware and software solution can offer Banks, Cash-in-Transit operators and service providers complete cash visibility facilitated by the industry's most advanced cash handling technology.
According to Morphis President and CTO, Alif Rahman, "Morphis, is continually developing solutions to help businesses track and manage their cash and CIMA has the industry's widest and most innovative range of cash handling machines. It's an ideal match for Morphis' pursuit of providing cash management at every step of the process."
As a result of this alliance, cash management providers can now deliver a complete solution that provides end-to-end visibility from the point where banknotes enter through CIMA's self-sealing stacking bags, to pick up and processing. The hardware and software alliance delivers tracking, logistics and cash visibility data at every step in the custody chain.
"I am extremely excited that our businesses have aligned to collaborate both at a technical and commercial level. Now, we can provide our mutual clients with a complete cash handling solution," says Vik Devjee, Vice President, CIMA Cash Handling America. "This alliance really supports both companies' shared goal of improving the efficiency and security of managing cash."
If you manage cash, make sure you attend our Webinar on October 15 @10am (CST)
Register Here
About CIMA Cash Handling America Inc.
CIMA is a leading global manufacturer of cash handling solutions that help businesses significantly reduce the cost of managing cash. CIMA supplies a broad range of smart safes, back office/front of store recycling systems and software for Banking/Financial, Retail, Hospitality, and Gaming.
https://www.cima-america.com/
About Morphis, Inc.
Morphis, Inc. is a leading global supplier of currency visibility and logistics software. Morphis' proprietary technologies provide world-class demand analytics coupled to optimized fulfillment logistics that deliver a new level of efficiency and accountability for cash management of any size enterprise.
https://www.morphisinc.com