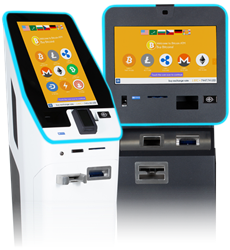 "Morphis is the gold standard for cash management and tracking" – BATM Operator
DALLAS (PRWEB) March 31, 2021
Morphis and General Bytes have come together in a partnership of software and hardware for the Bitcoin ATM industry. Now Bitcoin operators can take advantage of the Morphis integration rather than building their own server/platform to track all the transaction data. The Morphis API creates an opportunity for BATM operators to focus on their business and take advantage of the built in Morphis integration which feeds into the Morphis Crypto Kiosk Manager solution.
The top BATM operators in the United States are already using Morphis Software to control their transaction deposits, CIT pickup management, and cash vault depositions with full visibility via dashboard reporting. "Morphis is the gold standard for cash management and tracking" – BATM Operator
By utilizing our software, the BATM Operators do not have to utilize their own server and IT resources as they can simply download the Morphis API to use the framework already created.
According to Morphis President and CTO, Alif Rahman, "Morphis, is continually developing solutions to help businesses track and manage their cash and General Bytes is creating Next Generation Bitcoin ATMs with easy access for operators. The collaboration is timely as BATM operators are placing their machines in more locations each day."
About Client Company
GENERAL BYTES is the world's largest Bitcoin, Blockchain, and Cryptocurrency ATM manufacturer. We bring Android, Bitcoin, and blockchain based technologies to new and unexpected places. Our mission is to become the leading Bitcoin and blockchain technology provider. We spread our innovations around the world from our headquarters in Prague, Czech Republic and Bradenton, Florida, USA.
About Morphis, Inc.
Morphis was founded in 1999 and has become the world's leading supplier of payment systems and currency supply chain management software. Central banks, depository institutions, card issuers, armored carrier companies, BTM operators and many other companies in the consumer financial services sector use Morphis products daily. By utilizing proprietary technology, Morphis provides cutting edge, on-demand analytics, and fulfillment logistics, delivering efficient, robust solutions for enterprise cash management. Their software suite includes a customer relationship management platform; applications for cash forecasting, logistics optimization, and financial reporting; and tools for managing assets,
vendors, contracts, and service tickets. Their customers have a choice of on-site licensing or
SaaS licensing, ideal for larger clients, and web-based applications for small businesses.
To learn more about Morphis and the services they offer for cash-in-transit and similar
businesses, visit them on the web at http://www.morphisinc.com, or contact Trent Pratt, Regional Sales Manager at 214 803 1122 or tpratt@morphisinc.com