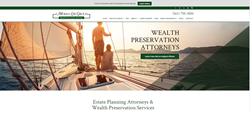 We designed the new site to be interesting and impactful but also easy to read and easy to find what you need. - Stuart R. Morris, Esq., CPA, B.C.S., founding partner, Morris Law Group
BOCA RATON, Fla. (PRWEB) August 27, 2020
Morris Law Group, https://law-morris.com, a leading estate planning and wealth preservation law firm headquartered in Boca Raton, Fla. with three other offices in South Florida, launched its newly designed responsive website this month. The site has a brand new look and feel, featuring plenty of jargon-free content created by the Morris Law Group team.
Developed especially for the firm's clients, potential clients, advisors, affluent individuals and families, business owners and entrepreneurs, the Morris Law Group website offers helpful information about the firm's practice areas, dedicated attorneys and team members, as well as client reviews, frequently asked questions, helpful resources, the latest newsletters by the firm's attorneys, firm updates and more. Visitors to the site can read through the firm's extensive blog and library of educational videos and articles on estate planning, tax planning and wealth preservation planning techniques. Interested individuals can request a consultation, get directions to the firm's offices, sign up for the firm newsletter, and make secure online payments through the site.
"We designed the new site to be interesting and impactful but also easy to read and easy to find what you need. We invite you to visit our new website and let us know what you think," said Morris Law Group's founding partner, Stuart R. Morris, Esq., CPA, B.C.S.
The Morris Law Group team is available for consultations in both English and Spanish, either in person, or by telephone or video conference. For more information or to schedule an appointment with an attorney today, please contact Morris Law Group, visit http://www.law-morris.com or call (561) 750-3850.
About Morris Law Group, Wealth Preservation Attorneys
Morris Law Group, a South Florida estate planning law firm with four conveniently located offices, provides personalized, discreet services to help protect their clients' wealth now and in the future. The Morris Law Group team of knowledgeable and qualified attorneys and legal professionals has more than 150 years of combined experience in managing complex estate planning, tax planning, trust and estate administration, and business structuring and succession planning for clients.
An AV® Preeminent-rated law firm by Martindale-Hubbell, Morris Law Group is adept at translating these strategies into easy-to-understand, jargon-free language, so clients can make informed decisions about their Wealth Preservation Solutions. Consultations are now available in Spanish and English. Se habla Espanol. Contact Morris Law Group, visit http://www.law-morris.com, email Info@Law-Morris.com or call (561) 750-3850 for more information or to set up a consultation at your convenience today.
###