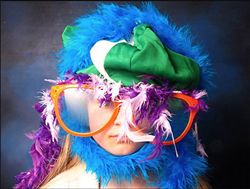 One of the best things about a photo booth is there is nothing for the host to do.
SAN LUIS OBISPO, Calif. (PRWEB) August 22, 2019
Music Makers DJ Service in Morro Bay recently announced it has added a photo booth to its services. Forbes Magazine reports that modern upgrades to the half-century-old photo booths have made them a popular addition to parties, wedding receptions, and corporate events.
Today's digital technological upgrades to the original "selfie-taker" have brought the photo booth a long way from the strip of grainy photographs of 50 years ago. The fun of crowding friends into the booth and making faces at the camera over each other's shoulders is still there, but now the photos are crisp and in full color. For those in a nostalgic mood, a black and white photo option is often available.
One of the best things about a photo booth is there is nothing for the host to do. Just make the arrangements and leave the rest up to the company that provides the booth. Props to spruce up the photos are included. Some hosts include scrapbooking supplies so the guests can personalize their memories. Special arrangements can usually be made for copies of additional photos after the event as well.
"At Music Makers, we are committed to offering the best services for our clients," said co-owner Michelle Ortiz. "The new photo booth is a hit with wedding guests, and for other parties, too. It's the perfect way for guests to add to their memories."
A photo booth for any party is not only affordable, but it is also additional entertainment and party favors all in one package. Weddings, showers, birthday parties, graduations, anniversaries, reunions, or any occasion that creates memories is perfect for a photo booth.
Music Makers DJ Service has been providing music and event planning to California's Central Coast for more than 30 years for all kinds of events. Anyone planning a party for any reason gets more than music from this company. With a resume covering 30 years and well over 5000 events, the company also supplies:

A playlist of over 100,00 songs of all genres
Lighting and sound
Truss lighting
Chandelier
Bundling a photo booth with any of the company's services is another way to really rock a party.
Music Makers DJ Service
Morro Bay, CA
(805) 709-6649
This press release is by Paso Robles online marketing company Access Publishing, 806 9th Street, #2D, Paso Robles, CA 93446. (805) 226-9890.