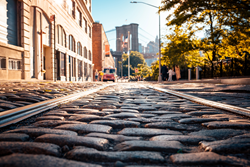 When investing with Mortar, you can choose to collect your income at the completion of each project, or automatically reinvest your distributions to continue growing your money for the future
NEW YORK (PRWEB) June 20, 2019
Mortar Capital Management, LLC, a New York-Based Real Estate Asset Management Firm has Launched its Second Fund Offering, the Mortar Growth Fund II. MGF II is a diversified offering focused on value-add acquisitions and ground up development of multi-family properties. Leveraging over 50 years of collective senior management experience, the team specializes in acquiring assets located in attractive urban sub-markets of New York.
With zero losses since inception, and currently over 150 active investors - Mortar is currently accepting commitments from accredited investors, including entrepreneurs and individuals looking to diversify their retirement portfolios with Self-Directed IRA or 401K investments. The fund's targeted annual gross returns are 16-20% to investors.
"When investing with Mortar, you can choose to collect your income at the completion of each project, or automatically reinvest your distributions to continue growing your money for the future." says Anthony Morena, principal of Mortar Capital Management.
About Mortar Capital Management: Mortar Capital Management, LLC and its affiliated and related companies ("Mortar"), manage and develop multi-family properties in the New York area. Mortar works within the sub-institutional investment market, providing accredited investors, real estate entrepreneurs and high net worth investors access to traditionally off market investment offerings.
For more information on how to become a Mortar investor, please visit https://mortararchdev.com.
This press release does not constitute an offer to sell or a solicitation of an offer to buy securities in any of the companies mentioned or any related or associated companies. Any such offer or solicitation will only be made through private placement memorandum, offering memorandum, or other formal offering documents. Investors must not rely on information provided in this press release for investment decisions but should instead review the formal offering documents for the investment opportunity, which include material information about the risks associated with the opportunity. Among other things, any investment in MGF II is illiquid, and subject to a potential loss of capital, including a total loss of capital.