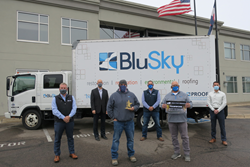 "We talk a lot about teamwork because it's one of our core values. It's extremely gratifying when a valued client like Mortenson recognizes that it's more than just talk." ~Kent Stemper, BluSky CEO
DENVER (PRWEB) November 04, 2020
Mortenson, a top-20 U.S. builder, developer, and engineering services provider with nearly four decades of operations in Denver, recently announced BluSky Restoration Contractors as the winner of its annual STAR Award for Teamwork.
The award recognizes BluSky's outstanding contribution to Mortenson's Emily Griffith School redevelopment project in Denver.
"Our trade partners play a crucial role in successful project delivery," said Gene Hodge, vice president and general manager at Mortenson. "Each year, we celebrate partners who set themselves apart through their commitment to safety, quality, teamwork and innovation. Their efforts allow us to deliver better experiences for our clients and more impactful results for our communities. We simply could not do all that we do without them."
"We talk a lot about teamwork at BluSky because it's one of our core values," said Kent Stemper, BluSky CEO. "It's extremely gratifying when a valued client like Mortenson recognizes that it's more than just talk. We're honored to be their partner and to receive this award."
Now in its 14th year, the STAR Awards program acknowledges trade partners for outstanding contributions to Mortenson projects over the past year. Due to COVID-19 safety practices, this year's winners were presented with their 2020 trophies virtually, with video testimonials from the projects or team members that nominated them.
About BluSky Restoration Contractors LLC
Denver, Colorado-based BluSky Restoration Contractors, LLC provides restoration, renovation, environmental and roofing services to all commercial, health care, and multi-family real estate classes across the U.S. and Puerto Rico. For addithonal information, visit http://www.goblusky.com.
About Mortenson
Mortenson is a U.S.-based, top-20 builder, developer, and engineering services provider serving the commercial, institutional, and energy sectors. Founded in 1954, Mortenson has operations across the U.S. with offices in Chicago, Denver, Fargo, Iowa City, Milwaukee, Minneapolis, Phoenix, Portland, Salt Lake City, San Antonio, Seattle, and Washington, D.C. For additional information, visit http://www.mortenson.com.