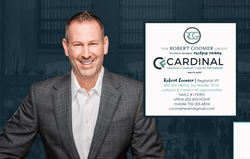 We look forward to more opportunities to share our valued company culture.
LAS VEGAS (PRWEB) May 29, 2020
For over the last 18 months, Robert Coomer has been elevating the region's mortgage industry by opening multiple locations of Cardinal Financial. Thanks to his years of experience matched with the company's technology, the industry expert and his Robert Coomer Team are bringing the same level of excellence outside of Las Vegas.
"Beyond the need for experienced professionals, customers want their home buying process to be more than a business transaction," Coomer says. "We have a responsibility to ensure homebuyers have a positive and even exciting time when purchasing a home."
Since opening the St. Rose branch in Henderson in July 2018, Coomer and his team have launched new outposts starting with Honolulu, Hawaii. By the end of 2018, San Diego, California and Spokane, Washington were added to the growing list. Denver, Colorado; Williston, North Dakota; and Houston, Texas have joined the ranks in 2019 along with second locations in Honolulu and Spokane.
"We are so thankful for this level of growth in such a short amount of time," Coomer says. "Joining a company with the horsepower and technology to match our level of customer service has been a gamer changer."
Year-to-date volume closed is over $900 million, establishing Cardinal Financial as the third highest Correspondent Lender in the Clark County Mortgage Share.
Up next is a location in Phoenix, which will be slated to open in the next few months. In addition, the Robert Coomer Group is working directly with the Hispanic population to help transition 700,000 renters into homebuyers with its loan product. Mi Casa Posible is the group's partner in this endeavor.
"By focusing on the basics of mortgage lending, we can be true partners for realtors and our clients in the homebuying experience. We look forward to more opportunities to share our valued company culture."
About the Robert Coomer Group
Robert Coomer has 20 years of experience in the mortgage industry. After years of watching his clients become frustrated with the mortgage process, he founded the "Robert Coomer Group" to bring to life his vision for a stress-free and high-quality mortgage experience. His team is comprised of some of the top mortgage professionals in Las Vegas. This hand-picked group of Loan Officers, Processors and support staff bring a wide range of expertise and experience to help serve clients. For more information, please visit robertcoomergroup.com or call 702-375-1317 or follow us on social media: facebook.com/RobertCoomerGroup.