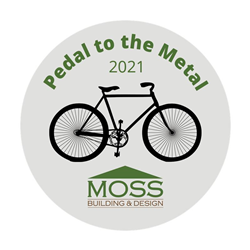 "MOSS strives to engage with organizations that make a deep and lasting impact on peoples' lives, and 'Pedal To The Metal Bike Buildapalooza' is the perfect example of us combining our hands-on experience with our commitment to giving back to those in need," said Paul DesRoches, MOSS CEO
CHANTILLY, Va. (PRWEB) February 17, 2021
MOSS Building & Design is hosting a weeks-long charity event, "Pedal To The Metal Bike Buildapalooza", to collect, rehab, and distribute older, unused, and slightly damaged bicycles for area families in need who might not otherwise have access to bicycles for recreation and transportation. In cooperation with partners Rats Cycles and Lowe's, as well as community organizations Mobile Hope, The Women's Center, Casa Chirilagua, and Arlington Partnership for Affordable Housing, MOSS will collect donated bicycles (both child and adult-sized) from the Northern Virginia community through March 5th, with a repair day on March 15th, and distribution between March 16th-19th.
"We are excited to be hosting this inaugural event with and for members of our community," said MOSS CEO Paul DesRoches. "MOSS strives to engage with organizations that make a deep and lasting impact on peoples' lives, and 'Pedal To The Metal Bike Buildapalooza' is the perfect example of us combining our hands-on experience with our commitment to giving back to those in need."
Anyone interested in donating a bicycle can fill out the form on the MOSS website, located here: https://www.mymoss.com/pedal-to-the-metal-bike-remodel-2021.
MOSS Building & Design is an award-winning residential remodeling company located in Chantilly, Virginia. As a trusted home improvement company in Northern Virginia, MOSS Building & Design focuses on providing customer service that is unparalleled by any other contractors in the area. Through trust, transparency and character, MOSS Building & Design builds lifelong relationships with their customers.  
Since 2001, MOSS Building & Design has established a reputation for excellence in remodeling additions, kitchens, bathrooms, basements and home services throughout Northern Virginia. Their customers see them as a trusted partner, and MOSS Building & Design is very proud that over 85% of their customers consider themselves 'customers for life.' MOSS Building & Design has won consumer awards from Angie's List for seven consecutive years and also has an A+ rating from the Better Business Bureau as well as many industry building and design awards, including NARI (National Association of the Remodeling Industry) Metro DC Capital CotY Awards for remodeling and community service.