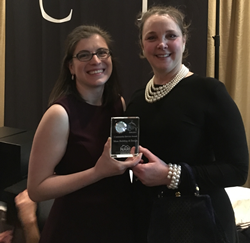 Our team, and company as a whole, is dedicated to making a difference in our community each year, and this award reinforces how rewarding our work is for those around us. -Jennifer Zschunke
CHANTILLY, Va. (PRWEB) February 26, 2019
Moss Building and Design (MOSS) is proud to announce their win of The National Association of the Remodeling Industry (NARI) Metro DC Chapter's 2019 Capital CotY for outstanding Community Service. The award is presented to a NARI member who has donated time, materials, and energy to help area individuals and groups in need.
Awards were presented at the Annual CotY "Evening of Excellence," held on Saturday, February 9, 2019 at the Westwood Country Club in Vienna, VA. Community Relations team colleagues Julia Kilberg and Janice McLaury accepted the award on MOSS' behalf.
Throughout 2018, the MOSS Community Relations team coordinated the donation of funds, volunteer hours, handyman services, food, gift cards, and other items to over 100 organizations, schools, and other good causes in Northern Virginia. Some of the organizations they have worked with include The Women's Center of Fairfax, Share of McLean, Arlington Free Clinic, Chantilly High School, Bridges to Independence and much more.
"MOSS is thrilled to be honored once again with a NARI Community Service award," said Jennifer Zschunke, MOSS Community Relations Manager. "Our team, and company as a whole, is dedicated to making a difference in our community each year, and this award reinforces how rewarding our work is for those around us."
Since its founding in 2001, Moss Building & Design has been a community-minded company, continually supporting Northern Virginia organizations to give back to those in the area who are in need. The MOSS team also coordinates HandyMOM 101 workshops, which educate and empower women to tackle home improvement projects. These workshops are free and are offered in both public and private settings. Please contact MOSS if you would like to learn more.
About NARI:
The National Association of the Remodeling Industry is the source for homeowners seeking to hire a professional remodeling contractor. Members are full-time, dedicated, remodeling industry professionals who follow a strict code of ethics with high standards of honesty, integrity and responsibility.
About Moss Building & Design and Moss Home Services:
Moss Building & Design, along with its Moss Home Services offering, is an award-winning residential remodeling and home services company located in Chantilly, Virginia. As a trusted home improvement company in Northern Virginia, MOSS focuses on providing customer service that is unparalleled by any other contractors in the area. Through trust, transparency and character, MOSS builds lifelong relationships with their customers.
Since 2001, MOSS has established a reputation for excellence in remodeling additions, kitchens, bathrooms, and basements as well as its home services throughout Northern Virginia. Their customers see them as a trusted partner, and MOSS is very proud that over 80% of their customers consider themselves 'customers for life.' Moss Building & Design has won consumer awards from Angie's List for eight consecutive years and also has an A+ rating from the Better Business Bureau as well as many industry building and design award.