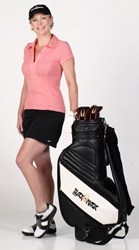 Black Magic Wedge Offers the Most Forgiving Hybrid Sand Wedge For The Short Game of Golf
Nationwide (PRWEB) August 14, 2013
Black Magic 56 degree hybrid golf wedge has been well received in the golfing world by pros and amateurs alike. With all the sand wedge reviews to read the all new 56 degree hybrid golf wedge by Black Magic has been rated by many as the most forgiving hybrid sand wedge on the market today.
Many club pros and professional players have written sand wedge reviews and made videos using Black Magic most forgiving hybrid sand wedge showing how easy this new design with the hosel removed from the face along with an extra wide sole that can make all short game shots effortlessly. The design of this 56 degree hybrid golf wedge allows even average golfers to obtain the skill and the confidence needed to lay the face open for certain shots that need extra fast lift without worrying about shanking.
"Players looking for sand wedge reviews, that truly can improve their short game should look at all the information available about the new design with Black Magic's 56 degree hybrid golf wedge. For a club to be associated with the most forgiving hybrid sand wedge players would expect a club that will still produce great results even if they mis-hit a little behind the ball which typically is called chunking and a club that will slide effortlessly over the turf and through the sand lifting the ball with great spin and control. Many players, be they amateurs, scratch players, club pros, or those with a good handicap, have said the Black Magic wedges have completely transformed their game for the better," a company spokesperson explained.
The company points out that their unique design with their most forgiving hybrid sand wedge Conforms to USGA Rules for even the best players in the world along with two United States Patents and Registered Trade Mark Name.
"We all know the best players in the world play with traditional type irons and they clearly make this unique game look easy but us amateurs know it is not all that easy and if there our clubs out there like 460cc big headed drivers or hybrid golf wedges that can help my amateur game and still be conforming then why not go for it," the spokesperson added.
About:
Blade Runner Golf, Inc. is a company devoted to the notion that a golfer's short game can make all the difference in his or her final score—but you can take your short game to the next level only if you have the right equipment. Black Magic's hybrid wedges Conform to USGA rules, but also helps golf enthusiasts find new precision and power as they make their way onto the putting green. Black Magic Wedge can be accessed on the web at: http://www.blackmagicwedge.com
Contact:
Black Magic Wedge
2519 McMullen Booth Rd
Suite 510-129
Clearwater, FL 33761
Phone 727-726-5737
Toll Free 877-799-6099