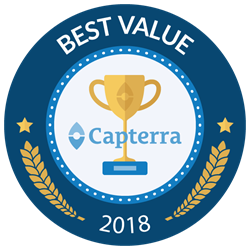 There are over 300 survey software products listed on Capterra, so being named to not just one, but two Top 20's is incredible
(PRWEB) August 07, 2018
SoGoSurvey has been recognized by Capterra as a survey software industry leader in two distinct reports released in July 2018: Most Popular and Most Affordable.
"There are over 300 survey software products listed on Capterra, so being named to not just one, but two Top 20's is incredible," said Deesha Adyanthaya of Capterra.
Capterra, a Gartner company, uses data including number of customers, number of users, and social presence in its algorithm to create its Top 20 lists. Widely recognized as a leading voice in the B2B software industry, Capterra rolled out its Top 20 Most Popular Software Series as the company's "best attempt at recognizing the market leaders in every major software sector," according to Michael Ortner of Capterra.
"Of course we're honored," said SoGoSurvey Chief Marketing Officer Haris Azmi. "But we're not stopping here. The positive feedback provides validation that we're on the right track, but we're still working every day to provide the best possible experience for our users."
SoGoSurvey provides customer experience and employee engagement solutions to users all over the world, across industries and in a wide variety of roles. As a comprehensive research tool, the platform integrates design, distribution, and powerful reports, keeping data secure at every step of the process.
About SoGoSurvey
SoGoSurvey's founders are recognized experts and visionaries in the field of survey technology and human/computer interface. The company has been recognized for its innovative technology and thought leadership in using survey data to build trust with customers and employees. In addition to our staff, our customers are a valued part of the SoGoSurvey community, providing feedback and inspiration for product features and design. Please join the SoGoSurvey conversation on Facebook, Twitter or on our website at http://www.sogosurvey.com.
About Capterra
Capterra is a free service designed to help businesses find the right software. Using buying guides, blog posts, user reviews and software experts, they match solutions to a company's specific needs. Capterra offers the most comprehensive list of business software solutions on the web to guarantee that businesses find the best match. Learn more about Capterra at http://www.capterra.com.