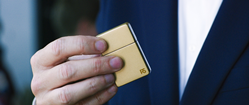 Our motivation behind DualFuel was to create a power source that is as popular as your wallet, keys and phone.
LONDON (PRWEB) January 29, 2019
Featuring an incredibly compact charger along with an electronic windproof lighter, the DualFuel, launched today on Kickstarter.
Created by the company Risolves, DualFuel was developed to become part of everyone's "every day carry," according to Risolves CEO and Founder Kieran O'Mahoney.
"Our motivation behind DualFuel was to create a power source that is as popular as your wallet, keys and phone," said O'Mahoney. "How many times have you been left low on power, adding panic to your day, when you've forgotten to charge your phone overnight? With DualFuel, you have a safety net, a consistently available emergency power source to give you peace of mind and get you out of stressful scenarios."
DualFuel can be used to charge any smartphone, iPad, Kindle or Apple Watch -- and any portable device that has a USB / USB-C Cable. With a super charged 1200 mAh battery, users can charge devices throughout the day for multiple uses.
DualFuel is also compact, sized at just 1.5 x 2.3 inches and weighing a little over 3 ounces (6 by 4 centimeters/less than 90 grams).
During development of the charging element, O'Mahoney said the Risolves team decided to condense multiple items into one perfect product.
"The more we started to develop the idea, the more we realized how advantageous the flameless coil will be aside from just another reason to carry your powerpack," he said.
DualFuel offers users a greener alternative to disposable lighters.
"Every year, countless disposable lighters are littering landfill sites and polluting the oceans, many with hazardous butane remnants that simply cannot be recycled," O'Mahoney said. "DualFuel's long-lasting, high-strength corrosion-resistant zinc alloy means users will save money in the long run and cut out that waste completely."
DualFuel's flameless coil works every time and at any angle, meaning "the search for lighter fluid and the pain of burns is over," O'Mahoney added. "With its inbuilt smart timer, the flameless coil cuts out when you've finished, stopping fire hazards before they can even begin."
For more information, or to purchase DualFuel at an early-bird discount during crowdfunding, visit the DualFuel Campaign Page on Kickstarter.
About Risolves
Risolves is a London-based company with a mission to bring unique ideas to life by evolving the way technology is integrated into the world of everyday carry. Through 18 months of prototyping, DualFuel, an electronic device charger/windproof lighter, represents the company's first step towards the vision of fusing multiple everyday objects into a balance of perfect refinement.