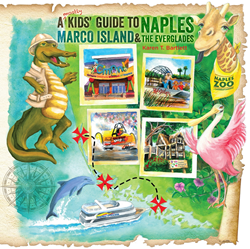 Naples, FL (PRWEB) July 01, 2015
For summer travelers headed for the soft sand beaches and other pleasures of Naples and Marco Island on Southwest Florida's famed Gulf of Mexico coast, the unusual new guidebook, A (mostly) Kids' Guide to Naples, Marco Island & The Everglades reveals the other side of the story.
Despite the word "Kids" in the title and exciting content that incudes Bigfoot's legendary relative, the Skunk Ape, buried pirate treasure, children's museums and family friendly beach parks, the super-charged insider's guide by award-winning travel journalist Karen T. Bartlett is a practical and charming must-have handbook for vacationers with and without children.
With more than 200 color photos and illustrations, A (mostly) Kids' Guide to Naples, Marco Island & The Everglades features tips on scores of experiences on land and sea. There's boating, fishing, shelling, exhilarating airboat rides, sailing excursions to deserted islands, zoos, stage performances, a nationally-acclaimed botanical garden, a water park, a world-renowned racing car museum, hands-on nature conservancies, a world-class children's museum and more. The book is packed with tips about parades, festivals, both upscale and quirky attractions, and scores of free experiences, such as greenways for bicycling and blueways for paddling. It includes a comprehensive listing of 125 resources with websites and phone numbers.
A (mostly) Kids' Guide to Naples, Marco Island &The Everglades also features tidbits of regional history, fascinating factoids about prehistoric Calusa Indians, present-day Seminoles, shipwrecked pirates, and unique creatures, including manatees, alligators, and the giant sea turtles that nest on the beaches all summer.
Humorous hand-written comments are sprinkled throughout the book, in the margins and even inside the photos. Readers learn, for example, that a palm tree is not a tree at all, but a relative of the onion. They get answers to intriguing questions such as "Why are the Seminoles called the Unconquered People?" and "Is there really a ghost in the swamp?" (Answer: yes, sort of).
Author Karen T. Bartlett is a member of SATW (Society of American Travel Writers) and ASMP (American Society of Media Photographers). Her published works include 11 travel destination books and hundreds of travel features around the world.
At 8 ½ x 8 ½ inches square, A (mostly) Kids' Guide to Naples, Marco Island & The Everglades fits neatly into a handbag or backpack pocket. With its moisture and fingerprint-resistant cover, it's designed to be shared and enjoyed both ahead of and during vacation.
A (mostly) Kids' Guide to Naples, Marco Island & The Everglades ($18.95) is available through BarnesandNoble.com, Amazon.com and at gift shops and boutiques throughout the region. http://www.mostlykidsguides.com.