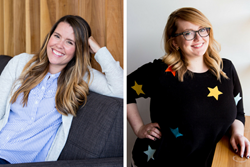 Mostly Serious recently hired two new employees. Joining the expanding business is Jessica Gottstein and Chelsea Begley.
SPRINGFIELD, Mo. (PRWEB) August 02, 2018
About Gottstein
Mostly Serious recently hired two new employees. Joining the expanding business is Jessica Gottstein and Chelsea Begley. As the studio's new designer, Gottstein uses her digital and print design skills to create strategic visual communication material for client partners. Begley oversees projects, strategy meetings and sets deadlines through her role as Account Manager.
Gottstein combines her design abilities and proofreading skills to create print and digital solutions at Mostly Serious. Although she holds a Bachelor of Arts degree in English, she discovered her passion for design through a community college class. Gottstein works to create impactful designs and reviews creative material for grammatical accuracy.
Prior to joining the Mostly Serious team, she was the Art Director at AdSmith, a local marketing agency, where she gained experience in project management. She also worked at a small marketing agency in her hometown of Springfield, Il. "One of my biggest driving forces is a thirst for knowledge and I'm always trying to learn new things to better myself as a designer," she said. "I think it's one of the most important qualities a designer can have because design is always changing."
About Begley
As Project Manager, Begley serves Mostly Serious' digital partners from the initial strategy phase to the project's end. She's responsible for communicating project needs, setting deadlines and aligning tasks with goals. Begley comes to Mostly Serious with more than a decade of experience. She worked at the Marlin Network in account service supporting local, regional, national and global brands. During that time, she was responsible for listening to stakeholders' needs and delivering quality content.
"I love letting qualitative and quantitative data create a narrative," says Chelsea. "Digging in and really leveraging data gives us a unique ability. We're able to understand and anticipate the needs of an audience so that the brand shines, leaving the audience with only one regret: not having converted sooner."
About Mostly Serious
Mostly Serious offers the latest in responsive web design service, primarily through interactive design and other digital solutions. The company works with leading Springfield-based companies such as CoxHealth, 417 Magazine, and HOLLOWAY AMERICA. In addition to its recent completion of the 417 Magazine website, Mostly Serious has designed and developed award-winning websites for Mother's Brewing Company, CoxHealth, and other well-known entities in the southwest Missouri region.
For more information about Mostly Serious, visit mostlyserious.io or contact Jarad Johnson at jarad@mostly serious.io.