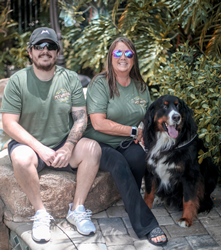 Pet Wants is different because our food is slow cooked and made with fresh, high-quality ingredients and then personally delivered to your door with a quality and freshness guarantee. - Loralyn Shore
DELRAY BEACH, Fla. (PRWEB) September 02, 2020
With a passion for pets and experience working with animals, mother and son team Loralyn and Nick are pleased to announce the launch of their new pet food and supply business – Pet Wants Delray Beach.
Pet Wants' specially-crafted, private-label pet food formulas are made in small batches with fresh, natural ingredients enhanced with vitamins and minerals for a complete and balanced diet in every bowl all made in the USA. Pet Wants Delray Beach has multiple blends of dog and cat food formulas as well as healing salve, calming balm, anti-itch spray, paw wax and more. Pet Wants Delray Beach is a mobile business that offers free, personal delivery in Delray Beach, Boynton Beach, North Boca, Lake Worth and the surrounding areas.
"It's as important to think about the food and treats you're giving your pets as it is to think about your own diet. Pet Wants is different because our food is slow cooked and made with fresh, high-quality ingredients and then personally delivered to your door with a quality and freshness guarantee. Even most of our treats are one or two ingredients, so you know exactly what you're getting," Loralyn said. "Helping your pets live long, healthy lives starts with great nutrition."
Pet Wants has a money-back guarantee on the freshness and quality of the food and the company only sources the best salmon, chicken, lamb, brown rice and other ingredients available. There's no sugar added, no fillers and no animal by-products and Pet Wants never uses corn, wheat, soy or dyes, which makes the food great for animals with allergies.
Loralyn and her husband, Ryan, have three adult boys – Nick, Jason and Drew – and three pets, a Bernese Mountain Dog named Buster Brown and two rescue cats, Jax and Gemma. Pet Wants is the third family business – the family owns a well-respected plumbing company and Loralyn owns a pet-sitting and dog-walking business. That business is what sparked Nick and Loralyn's interest in Pet Wants.
"We have a huge love for animals and we enjoyed pet sitting and dog walking, but we wanted to do more for the pets, their families and our community. When we found Pet Wants, we saw a great opportunity to offer a healthy alternative for our local fur community and we just couldn't pass it up. We are thrilled to be opening Pet Wants of Delray," Nick said.
To learn more about Pet Wants Delray Beach, call 561-718-0755, email NGeraine@PetWants.com or visit https://www.petwants.com/delraybeach/.