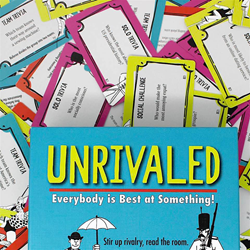 ATLANTA (PRWEB) January 28, 2019
In a thriving, billion-dollar board game industry largely dominated by men, mother Staley Krause and daughter Sawyer Krause-Thompson collaborated to create and write a fresh take on party games with their debut release, Unrivaled.
Unrivaled offers partygoers a unique experience with an added twist: Players guess the winner before each challenge begins, bringing in rivalry from the start. The game stirs up high energy and big laughs with diverse challenges, from push-up contests and delivering monologues to designing new trends and inventing strange cocktails. Players compete in wit and will while also getting to know each other on a whole new level.
"People inherently want to understand and be understood by each other, and I think the Unrivaled game mechanic sets the stage for that." says Krause. "We all know the superficial basics about our friends and acquaintances, so I wanted this game to take things up a notch. All of it is light-hearted and often ridiculous, but the end result, whether people realize it or not, is learning about and sharing with each other."
The mother-daughter duo partnered with illustrator Ping Fah, who created the retro-fresh cover art. Designer Missy Fountain, of the Atlanta-based game publisher Lark & Clam, brought all of the elements together into the package on shelves today. Collectively, these women are unrivaled in their talent and creativity. Unrivaled has been picked up by Target, Barnes & Noble, Books-A-Million, and Amazon, and can be found in hobby gaming stores across the country.
ABOUT UNRIVALED
Welcome to a brand-new party game experience where players guess the winner before each challenge begins! Stir up rivalries. Read the room. A madcap game of trivia, physical team, and solo challenges - Who will take them on? Who will predict the winner?

Number of Players: 4-10
Ages: 16+
Time to Play: 30-90 mins
MSRP: $19.99
Available Now at: Target, Barnes & Noble, Amazon, Books-A-Million and most hobby distributors
Country Of Origin: USA
ABOUT LARK & CLAM
Lark & Clam is a maker of fine board games, card games, and curios located in Atlanta, Georgia. Its mission is to bring fun-to-play, easy-to-learn "party games" to a wider audience. Lark & Clam believes that face-to-face engagement is a basic human need and that quick and fun games are an important part of life. Hit games include Codenames: Deep Undercover 2.0; Deer Lord!; Flanx; Brown Chicken, Brown Cow; and Unrivaled.
Press Contact / Marketing & PR
Lindsey Shuman, pr (at) larkandclam (dot) com, 404.680.0373