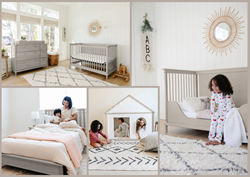 Motherly is committed to meeting the needs of today's modern mamas who seek quality, style and durability at a great price. Nowhere is this more important than in the furniture she selects for her nursery. We're so proud of this beautiful line and are delighted to think these amazing pieces will be
NEW YORK (PRWEB) January 25, 2021
Motherly is thrilled to announce their new furniture line, the Timeless Collection by Motherly. The line includes four key furniture pieces every mom needs when nesting for the arrival of their baby. The nursery's four most important pieces are what make the Timeless Collection unique, as they have the ability to adapt to meet the needs of your growing child. The Timeless Collection is now available online at Mother.ly and will be available soon at Target.com.
Motherly had today's mamas in mind when designing this collection which made it important that these pieces meet her needs and offer convenient and easy to use features that will stand the test of time. The design is sleek and minimalistic, created to fit seamlessly into any modern mama's decor. Motherly made it easy to find the perfect nursery furniture set through the Motherly Timeless Collection that will evolve with your ever changing family.
"Motherly is committed to meeting the needs of today's modern mamas who seek quality, style and durability at a great price. Nowhere is this more important than in the furniture she selects for her nursery. We're so proud of this beautiful line and are delighted to think these amazing pieces will be a special part of family nurseries for years to come." Says Julie Tozier, Vice President of Commerce + Marketing at Motherly.
Motherly Timeless Mini Crib and Mattress ($279.99)
This convertible mini crib comes in a space conscious size, and color options that allow you to match it with any decor. It easily transforms from a mini crib into a daybed, toddler bed and twin-size bed with a headboard and an optional footboard. Designed with convenience in mind, this crib comes with a mattress and will earn itself a spot in your home for years to come.
Motherly Timeless 5-in-1 Crib and Playhouse ($499.99)
This 5-in-1 Convertible Crib and Playhouse easily transforms your baby's safe place into their play place, too. Similar to the mini-crib, the 5-in-1 Crib adapts with your growing child and has the ability to evolve into a daybed, toddler bed and even a full-size bed with a headboard, featuring an adjustable mattress support base with three height options. The best part, once your baby has outgrown their bed this special piece gives you the option to turn their room into a magical space for imagination and play by turning their bed into a playhouse. The crib and playhouse is available in two finishes, white & brushed fog.
Motherly Timeless Collection Glider w/ USB ($449.99)
With this one of a kind glider, function, style, and comfort were top of mind. The pillow-soft chair is a combination swivel and recliner seat with an easy recline feature, plush cushions and two USB ports so that mom and baby can sit or recline comfortably for as long as they'd like. The track arms allow mom to easily settle in and out of the chair even with a sleeping baby in your arms. The chair is available in blush and ivory.
Motherly Timeless 6 Drawer Dresser w/ Changer Topper ($399.99)
This functional, yet stylish piece allows mom to compliment her decor, with a high-quality piece of furniture that poses as both a dresser and a changing table. It comes with a removable changing topper designed to fit any standard-size changing pad so that the dresser can easily be turned into a changing station. This piece can grow with your child and will match any decor as their interests change throughout the years. The dresser and changing table duo are available in white or brushed fog and can be customized with metal knobs in silver or gold.
To purchase pieces from the Timeless Collection by Motherly, visit the Motherly Shop at Mother.ly. or visit Target.com.
For more information on The Timeless Collection By Motherly please contact:
Kerry Petrocelli
kerry@victorypublicrelations.com
631-258-1555
About Motherly
Founded in late 2015 by entrepreneur Jill Koziol and writer/editor Liz Tenety, Motherly (http://www.mother.ly) is a lifestyle brand redefining motherhood on behalf of a new generation of mothers, empowering modern mamas with expert information, an inspiring community, and thoughtfully curated products to guide her through the journey of motherhood.