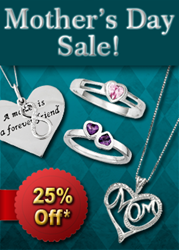 When we decided to add Mother's Day Jewelry to the site, we knew it had to be of a special quality to honor such an important person in people's lives.- Brett T, Tungsten World Sales Manager.
Brea, Calif. (PRWEB) April 30, 2014
Honoring the women that mean so much to our lives, Tungsten World unveiled a category of Mother's Day Jewelry Gifts on its website this week.
According to analysts, over 25 percent of the $2 billion spent on Mother's Day gifts in 2013 were online purchases. With that percentage trending upwards in 2014 and less than two weeks until the Mother's Day holiday, sons, daughters and husbands alike are looking for the perfect way to honor Mom. Keeping that in mind and continuing its effort to offer unique holiday-themed gifts, TungstenWorld.com rolled out a line of Mother's Day gifts and jewelry last week featuring over 25 new products.
"When we decided to add Mother's Day Jewelry to the site, we knew it had to be of a special quality to honor such an important person in people's lives," said Brett T, Tungsten World Sales Manager. "In the end, we ended up with only the highest quality mothers heart pendants, mom heart bracelets and other mothers day jewelry for mom and even grandma."
The focus of Tungsten World's new Mother's Day Gifts and Jewelry line is the love between mother and child. Shoppers viewing the new category on TungstenWorld.com will find a wide array of mother-inspired mom heart necklaces, pendants, lockets and jewelry available for purchase. Coming in a variety of available metals including sterling silver and stainless steel, these pendants and lockets prominently display a love for mom. Customers can further customize their lockets by adding pictures of themselves with mom as a keepsake gift or by having their pendant custom laser engraved using Tungsten World's state-of-the-art laser engraving machine. Also available as a part of Tungsten World's new line of gifts and jewelry are Mother's Day heart rings and bracelets. Featured as part of the bracelets available are Tiffany-styled toggle heart bracelets with poems to mom and words of love. While the Mother's Day heart rings come in a variety of styles made from high quality sterling silver and inlaid with cubic zirconia, colored crystals or real amethyst.
"We have been seeing increased demand for jewelry products tailored to specific holidays and occasions. We already have categories on our site for Valentines Day, Mother's Day, Fathers Day, Graduations, Christmas and even Saint Patricks Day in our accessories and occasions/gifts from our site's menu," said Chris B, Tungsten World Head of Internet Marketing. "With a unique and stylish selection of these products, some of which can be custom engraved, TungstenWorld.com is helping people find the perfect jewelry gift for any occassion."
Not Mother's Day related but also new to TungstenWorld.com is the retailer's further expansion of its camo rings, cobalt rings and casual jewelry lines. Featuring colorful camouflage patterns in a variety of styles, Tungsten World has expanded its popular line of tungsten camo rings to include more styles in ceramic and titanium. Also new at TW is an expansion of the cobalt chrome rings available including more diamond styles and carbon fiber cobalt ring styles. Finally, Tungsten World has added a line of casual fashion jewelry featuring beloved comic book character Batman. In addition to Batman-inspired cufflinks and earrings, Tungsten is also offering a custom engraved Batman ring featuring the wearer's choice of Batman logo throughout the years.
Shoppers looking for Mother's Day gifts or any of TungstenWorld.com's products can save $25 from now until Mother's Day by using the promo code: MAMMA25 in their cart at checkout.
About http://www.TungstenWorld.com:
Based in Orange County, Calif., Tungsten World is a leader in retailing tungsten rings, cobalt rings, titanium and alternative metal wedding bands online. Tungsten World's Tungsten Forever™ brand offers the absolute highest quality women's & men's tungsten carbide wedding bands & tungsten jewelry products, including tungsten wedding bands; all of which include a lifetime warranty and are offered in a variety of styles to meet the demands of today's trends.