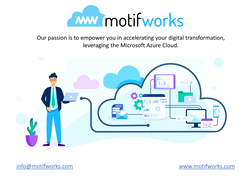 TOWSON, Md. (PRWEB) March 03, 2020
Motifworks is excited to announce that it is now a Microsoft-certified 'Azure Migration Expert, under the Azure Migration Program (AMP), with an advanced specialization in Modernization of Web Applications to Microsoft Azure. Motifworks has been able to achieve this feat after undergoing an intensive and independent audit conducted by a third-party. The certification validates the fact that Motifworks is an elite specialist in migrating and deploying production web application workloads, applying DevOps practices, and managing application services in Azure.
Motifworks has an extensive depth of capabilities that can transform and modernize legacy applications, resulting in reduced cost by up to 40% and faster time to market for its clients. Motifworks AzureSmart Application Modernization platform delivers a detailed application compatibility analysis, cost insights, architecture blueprint, and drives broader business transformation at global scale. Motifworks is now more ideally placed to help enterprises migrate and modernize their applications, data and infrastructure in the cloud with the proven AzureSmart Cloud Adoption program, resulting in reduced costs and increased value for the business.
"Earning the Azure Specialization as part of the AMP program is a way to show the customers our commitment to their success. The specialization demonstrates highest level of service delivery and support, right mix of training, best practice guidance, tooling to best meet our customer's needs. Our proficiency and laser-like focus on the Azure platform, as well as close partnership with Microsoft, allows us to help customers take their digital transformations to the next level by using our Azure expertise." Nitin Agarwal, CEO, Motifworks
As a specialized migration partner, Motifworks will continue to leverage its collaboration with Microsoft and offer customers prescriptive, step-by-step guidance they need for a path to the cloud from start to finish. AMP helps mitigate risk and addresses common issues associated with migrating workloads to the cloud. With proven cloud adoption methodologies, tools, and best practices, customers can simplify and accelerate the move to the cloud. Building on these capabilities.
"Motifworks' certification in the Microsoft AMP Program validates our ability to deliver value to our customers as they execute their Digital Transformation initiatives through Azure Adoption. The thorough audit and review reinforces that Motifworks is uniquely positioned to help customers innovate at the highest and most advanced levels of modernization." Kirk Pawlak, VP Sales, Motifworks
About Azure Migration Program (AMP):
Azure Migration Program includes prescriptive advice, resources, and tools customers need for a successful path to the cloud from start to finish. Using proven cloud adoption methodologies, tools, resources, and best practices, customers can simplify and accelerate their move to the cloud, working hand in hand with Microsoft experts and specialized migration partners.
https://azure.microsoft.com/en-us/blog/ensuring-customer-success-introducing-the-azure-migration-program/
About Motifworks
At Motifworks, we are AzureSmart. Motifworks is one of the fastest-growing cloud solutions providers, specializing in Cloud Adoption, Application Innovation, and Effective Data Strategies. The company helps businesses accelerate their digital transformation initiatives using the Microsoft Azure cloud.
Motifworks has earned multiple competencies in Azure including Microsoft Gold Azure Cloud Platform, Gold Application Development, Gold Data Analytics, Silver Security, and Silver Data Platform partner.
Motifworks is headquartered in Towson, MD with offices around the U.S. and Pune, India.