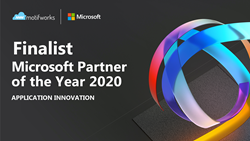 TOWSON, Md. (PRWEB) July 14, 2020
Motifworks was honored among a global field of top Microsoft partners for demonstrating excellence in innovation and implementation of customer solutions based on Microsoft technology.
"This recognition highlights the value of Motifwork's capabilities across the Azure cloud platform, helping clients transform their businesses. By embracing the cloud, Companies, whether small or large, in every industry are looking to digital transformation to improve their operations, products, and employee and customer experience," said Nitin Agarwal, CEO at Motifworks. "With Motifworks deep Cloud, Azure, and digital innovation expertise, combined with Microsoft's industry-leading Azure cloud technology, this award recognizes the business value and innovation that our alliance delivers to our joint customers."
The Microsoft Partner of the Year Awards recognize Microsoft partners that have developed and delivered exceptional Microsoft-based solutions during the past year. Awards were classified in several categories, with honorees chosen from a set of more than 3,300 submitted nominations from more than 100 countries worldwide. Motifworks was recognized for providing outstanding solutions and services in Application Innovation.
The Application Innovation Partner of the Year Award recognizes a partner for delivering solutions based on Microsoft's Application Development, Data, and AI platform capabilities where they consistently transform customers' digital innovation strategies. Motifworks has demonstrated a deep understanding of their customers' business challenges and has helped motivate adoption of new development approaches and practices.
Motifworks empower organizations to accelerate their digital transformation initiatives using the Microsoft Azure cloud. Motifworks' AzureSmart platform provides cloud migration and modernization strategy, architecture blueprints, automation, and implementation to transform legacy IT infrastructure and applications, resulting in reduced cost by up to 40% and faster time to market. Leveraging Azure Cloud-Native services, and Azure Data Platform, the Motifworks offerings guide and support companies on their journey to the cloud and help drive business value and expedite digital transformation.
"It is an honor to recognize the winners and finalists of the 2020 Microsoft Partner of the Year Awards," said Gavriella Schuster, corporate vice president, One Commercial Partner, Microsoft. "These partners go above and beyond, delivering timely solutions that solve the complex challenges that businesses around the world face – from communicating and collaborating virtually to helping customers realize their full potential with Azure cloud services, and beyond. I am proud to honor and congratulate each winner and finalist."
About Motifworks:
At Motifworks, we are AZURESMART. Motifworks is a leading cloud solutions provider, specializing in Cloud Adoption, Application Innovation, and Effective Data Strategies. We are committed to power up our customers' digital transformation initiatives leveraging Microsoft technologies. We're here to simplify the path to explore what's possible.