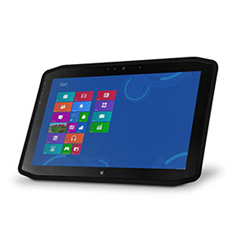 The Motion R12 is ideal for mobile professionals who need more screen real estate, and greater versatility, durability, and performance than consumer tablets offer.
Chandler, AZ (PRWEB) April 22, 2014
Group Mobile, well known for carrying the top brands in rugged laptops, rugged tablet PCs, rugged SmartPhones, and rugged handheld computers, extends its product offerings to include the newest mobile computer from Motion Computing — the Motion R12 rugged tablet.
The Motion R12 tablet PC is designed for the worker who moves from the field to the vehicle to the office. Weighing just under3 pounds, the full high definition 12.5" tablet features Motion's View Anywhere® technology for advanced outdoor visibility, and break-resistant Gorilla™ Glass to make the device suitable for rugged environments.
The Motion R12 platform includes an array of thoughtfully designed accessories including the SlateMate® data acquisition module, EasyPair™ technology wireless keyboard and Secure Mobile vehicle dock. The products in the R12 Platform were created by Motion to work seamlessly together for incomparable efficiency and unbeatable productivity in public safety, construction, and field service.
"Over the past decade, we have accumulated a wealth of knowledge about what the mobile worker wants as well as what the companies they work for need," said Cathy Thompson, CEO of Motion. "The R12 Rugged Platform is a result of that knowledge. Every R12 product and feature was created with a specific worker need in mind. Enterprise-ready, secure, safe, and rugged, R12 was built to delight and empower the end-user while delivering investment protection and productivity gains to the business."
The Motion R12 rugged tablet is a great alternative to a desktop. In addition to a desktop mount, the R12 Platform includes a stylishly-stored wireless keyboard featuring innovative EasyPair technology. EasyPair helps avoid the hassle of Bluetooth pairing by ensuring any R12 wireless Keyboard automatically pairs with any R12 tablet.
The Motion R12 has a SlateMate data acquisition module which can be configured with up to three I/O devices, which is ideal for field workers. For the mobile professional that performs work both inside and outside of their vehicle, Motion Secure Mobile Vehicle Dock improves driver safety as well as productivity.
"The Motion R12 is ideal for mobile professionals who need more screen real estate, and greater versatility, durability, and performance than consumer tablets offer," stated Stephanie Kreitner, Executive Vice President of Group Mobile. "We expect Motion's new R12 to be very popular among rugged tablet users in public safety, construction, field service, and other highly mobile work environments."
To learn more and order the Motion R12 tablet, visit http://www.groupmobile.com/product.asp/sku=6904/dept_id=/mf_id=62/Motion+R12+Tablet+Computer.html, or call toll free 866-RUGGED8 (1-866-784-4338).
About Group Mobile
Headquartered in Phoenix, AZ, Group Mobile serves customers all over North America. Customers range from Fortune 500 companies and the U.S. Military, to local police/fire/ambulance, to small and mid-size businesses, to the frequent traveler that needs something more durable than a commercial, off-the-shelf computer. Group Mobile carries all the leading rugged computing brands. In addition, Group Mobile offers vehicle docking and mounting equipment from Gamber Johnson, Ram Mounts, and Havis/Ledco. To learn more about rugged computers and how they differ from commercial, indoor computers, check out the Rugged Computer Guide or visit us online at http://www.groupmobile.com.
About Motion Computing
Motion Computing® empowers organizations worldwide with technology solutions designed to optimize the performance of mobile workers. Building on a foundation of award-winning technical expertise and decades of industry experience, the Motion® team makes it their business to understand your business. Through industry-leading rugged tablet PCs, tailored accessories and services – Motion delivers mobile technology solutions customized to business workflows. Purposely built for vertical markets including field service, healthcare, utilities, construction, retail, public safety and first responders - Motion's suite of mobile technology solutions improves worker productivity, data accuracy and security, while enabling real-time decision making at the point-of-service. Customers report lower operational expenses, increased efficiency and enhanced customer service.