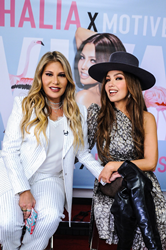 "I love Thalia and I think when you see how dedicated she is to her own entrepreneurial ventures, you see it as a perfect marriage, a perfect match. So, the THALIA X Motives Viva Palette is our 'baby,'" said Motives Founder, Loren Ridinger.
GREENSBORO, N.C. (PRWEB) May 18, 2020
Motives® Cosmetics, founded by Loren Ridinger, is excited to announce the long-awaited release of the THALIA X Motives collection*, inspired by the international superstar and queen of Latin pop herself, Thalia. On May 15, Loren and Thalia officially launched the THALIA X Motives Viva Eye & Cheek Palette, which is now available for sale (Click here for: U.S. customers, Outside U.S., Outside U.S Español)!
"I love Thalia and I think when you see how dedicated she is to her own entrepreneurial ventures, you see it as a perfect marriage, a perfect match. So, the THALIA X Motives Viva Palette is our 'baby,'" said Ridinger.
Thalia invites all beauty lovers to "Viva La Vida" or "Live Your Life" with the exclusive collection that features the THALIA X Motives Viva Palette, including eight of Thalia's can't-live-without shades. Ranging from insanely creamy and fierce high shimmers packed with bold colors and matte shades for a total look any time of the day, the Viva Palette has it all. The eyeshadows can be worn wet or dry with their high color payoff and impressive color retention. For a total glam-ready look, the palette also features a universal contour, blush and highlighter.
"This palette embraces who I am and all of the happiness and beautiful things that come from within. Beautiful, powerful, colorful -- all of that and more is in the THALIA X Motives collection," said Thalia.
The THALIA X Motives collaboration embodies Thalia's "live life to the fullest" spirit. The singer, songwriter, actress, entrepreneur and fashion designer -- Thalia Sodi -- is known as "The Queen of Telenovelas" and "The Queen of Latin Pop." Adored across the globe, with over 45 million followers combined across all social media platforms, Thalia wants to inspire women everywhere to embody the confident, feminine and vivacious spirit she exudes through her music, acting, writing and product lines such as her latest haircare and fragrance lines. Thalia created this collection for women everywhere.
Separately launched on May 5, the THALIA X Motives Liquid Lipstick in Red Velvet (Click here for: U.S. customers, Outside U.S., Outside U.S Español) is already heating up on social media across the globe. Thalia's new red is the perfect shade you've been waiting for. This kiss-proof, velvety formula glides on weightlessly for a matte finish that hangs tight -- morning to night.
*Motives does not conduct or commission animal testing of any finished product. This product is paraben free.
ABOUT MOTIVES®
Founded in 2008 under parent company, Market America, Motives by Loren Ridinger is a luxury cosmetics brand created so every person, on any budget, can enjoy high quality, custom-formulated cosmetics that enhance true beauty and help nourish the skin. This customized approach combines a selection of revolutionary foundations, powders and concealers to create the perfect canvas for the application of color to the eyes, cheeks and lips. Motives offers a variety of colors and products from Custom Blend Foundations to Luminous Translucent Powders to Moisture Rich Lipsticks, allowing anyone to easily create the look they want for any and every occasion or mood. Motives is about feeling empowered, beautiful and achieving goals, all at an affordable price. For more information about Motives, visit: http://www.motivescosmetics.com.
ABOUT THALIA
Thalia is a superstar singer, songwriter, entrepreneur, philanthropist, actress, fashion designer and digital influencer. She rose to fame after starring in various telenovelas that have been translated into several languages and have aired in more than 180 countries with a viewership of more than 2 billion people worldwide. She has had 29 Top 10 singles — 15 of which went to No. 1 — and has sold more than 50 million records, making her one of the best-selling Latina artists of all time. Her most recent album, Valiente, (Sony Music 2018) features four hit singles and was certified platinum by the RIAA.
For more information and exclusive updates, follow Thalia on Instagram, Twitter and Facebook and Snapchat.
ABOUT AUTHENTIC BRANDS GROUP
Authentic Brands Group (ABG) is a brand development, marketing, and entertainment company, which owns a portfolio of global media, entertainment, and lifestyle brands. Headquartered in New York City, ABG elevates and builds the long-term value of more than 50 consumer brands and properties by partnering with best-in-class manufacturers, wholesalers, and retailers. Its brands have a global retail footprint in more than 100,000 points of sale across the luxury, specialty, department store, mid-tier, mass, and e-commerce channels, and more than 5,500 freestanding stores and shop-in-shops around the world.
ABG is committed to transforming brands by delivering compelling product, content, business, and immersive experiences. It creates and activates original marketing strategies to drive the success of its brands across all consumer touchpoints, platforms, and emerging media. ABG's portfolio of iconic and world-renowned brands generates more than $12 billion in annual retail sales and includes Marilyn Monroe®, Elvis Presley®, Muhammad Ali®, Shaquille O'Neal®, Sports Illustrated®, Dr. J®, Greg Norman®, Neil Lane®, Thalia®, Nautica®, Aéropostale®, Forever 21®, Juicy Couture®, Vince Camuto®, Herve Leger®, Judith Leiber®, Barneys New York®, Frederick's of Hollywood®, Nine West®, Frye®, Jones New York®, Louise et Cie®, Sole Society®, Enzo Angiolini®, CC Corso Como®, Hickey Freeman®, Hart Schaffner Marx®, Adrienne Vittadini®, Taryn Rose®, Bandolino®, Misook®, Spyder®, Tretorn®, Tapout®, Prince®, Volcom®, Airwalk®, Vision Street Wear®, Above The Rim®, Hind®, Thomasville®, Drexel®, and Henredon®.
For more information, visit authenticbrandsgroup.com.
Follow ABG on Twitter, LinkedIn, and Instagram.