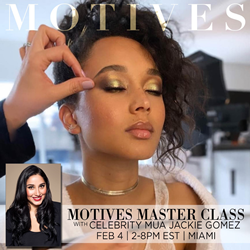 "'It only takes one step to break out of your comfort zone.' I heard Loren share this on stage. This quote represents who I am, because I remember that one moment when I got the call from Beyoncé, I had to take that step..." Celebrity Makeup Artist, Jackie Gomez
MIAMI (PRWEB) January 31, 2020
On Tuesday, Feb. 4, Motives® and Loren Ridinger are thrilled to invite you to attend the Motives Master Class with Latina Celebrity Makeup Artist Jackie Gomez in Miami, Fla. This is your chance to learn the hottest beauty secrets from a makeup professional who has created some of the most iconic looks for celebrities like Beyoncé, Zoe Saldana, Shay Mitchell and our very own Loren Ridinger! These incredible women embody beauty and power and always have access to the most sought after makeup artists from around the world. Being on this short list of makeup artists, Jackie will be teaching the same advanced application techniques she uses to create such stunning looks on top celebrities. Jackie will also share how she built her own brand as one of the most in-demand Latina makeup artists in the beauty industry, a topic that will prove to be very valuable for makeup artists and beauty influencers wanting to grow their business and following.
When you purchase your ticket to the Motives Master Class, you'll receive access to a full-day immersion of exclusive beauty tips, tricks and one-on-one networking opportunities which include the Master Class starting at 2:00 p.m., with a Special Business Branding session, followed by a Mix & Mingle Event! You'll also get over $400.00 in free makeup and accessories so you can take what you've learned and start elevating the beauty you create on your clients as a talented and successful makeup artist!
In addition to teaching you the secrets of the best in the business, Jackie Gomez will also share her own experiences as an entrepreneur and a successful Latina in the industry — empowering you with the wisdom you need to stand out in an ever-evolving beauty industry. Learn how to leverage the Motives brand to take your business to the next level as a Pro-Artist or a Beauty Advisor. Network with established artists and gain invaluable insights into thriving as a successful beautypreneur!
And what secrets, exactly, are you going to learn? We can't spoil everything, but Jackie promises to teach you the essentials of becoming an entrepreneur. "Be confident. Sell yourself quickly," she says. "Know the five reasons why you're great at what you do — why your business is amazing. Just have that confidence that you'll get the opportunity ... For me, I know I'm really fast and efficient. A lot of my clients love me because I don't take an hour or two to do makeup. I take maybe thirty minutes top. That's one of the reasons my clients love me as a makeup artist."
Jackie Gomez was born in Mexico City to Colombian parents but moved with her family to New York when she was just 2 years old. After high school, at the age of 18, she began working as a freelance makeup artist. Never thinking that she'd become a titan of the industry, she began generating buzz for quick, efficient looks that turned heads everywhere she went. Her reputation preceding her, she was soon hand-picked by Beyoncé to join her team. That audacious power move, for such a young, Latina artist just starting out catapulted her into the spotlight, where she's thrived ever since. From the other members of Destiny's Child to Ciara, Zoe Saldana, and even the likes of Hugh Jackman and Antonio Banderas, Jackie has been unstoppable. Seriously, can you imagine getting your big break from none other than Beyoncé herself?!
It was Beyoncé's stylist, Ty Hunter, who introduced Jackie to Loren Ridinger, an instantaneous and kismet relationship that has blossomed ever since. And it's the one quote of Loren's that Jackie lives by that she wants to teach you to embrace during her Master Class. "'It only takes one step to break out of your comfort zone.' I heard Loren share this on stage. This quote represents who I am, because I remember that one moment when I got the call from Beyoncé, I had to take that step...that's why I know that whoever comes to this class is going to walk out of there confident that they're going to be able to be successful. Because honestly, it just takes that one step." Take your first step and purchase your tickets to the Motives Master Class with Jackie Gomez here.
Market America is a global product brokerage and internet marketing company that specializes in one-to-one marketing.