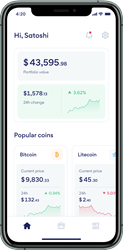 We believe it's time to level the playing field by building an interconnected platform that brings the most efficient and effective trading and portfolio management tools and features into one smart app, available to anyone with an interest in crypto, said Mansoor Safi, CEO, Motocho
SAN JOSE, Calif. (PRWEB) June 16, 2020
Motocho today announced the open beta launch of its first consumer-focused, real-time metasearch and smart order routing platform that simplifies managing, trading and owning multiple cryptocurrencies – all from a single point of access. With sophisticated, institutional-level trading tools, trade history analysis, real-time market data and gain & loss reporting, Motocho provides individual investors with the most efficient execution of transactions across multiple exchanges to help maximize the value of their portfolios, commission-free. Motocho removes the significant barriers to the widespread adoption, access and use of digital currencies through an easy-to-use mobile app. To request early access to the open beta, please visit http://www.motocho.io. Invitations will be delivered on a rolling basis.
Motocho's management and advisory team is composed of leaders with decades of experience in fintech, cryptocurrency, software development, regulatory compliance, lending and investment banking, from companies including E*TRADE, Coinbase, Maynard Cooper, FS Vector, Circle and Avex Mortgage (acquired by Better.com).
"Bitcoin was created to liberate and empower people, while spreading and democratizing wealth," said Mansoor Safi, chief executive officer of Motocho. "Unfortunately, the crypto landscape has grown more complex and fragmented, with current trading evolving to benefit only the most active and tech-savvy traders -- and increasingly, institutional investors and hedge funds -- leaving individual investors and newcomers at a disadvantage. We believe it's time to level the playing field by building an interconnected platform that brings the most efficient and effective trading and portfolio management tools and features into one smart app, available to anyone with an interest in crypto."
In support of its mission, the Motocho platform includes the following features and tools:

Smart Crypto Trading: Smart order routing (SOR) splits orders to optimize price and benefits, while real-time access to market intelligence helps traders make the best-informed decisions. Artificial intelligence and machine learning algorithms continuously learn to optimize user transactions, and the platform ensures the best order execution across exchanges.
Single Account: The Motocho platform provides a consolidated portfolio overview and 24/7 access to all of a user's cryptocurrencies and assets in one place with a single login, for immediate visibility into account performance, reporting on gains and losses for easier tax reporting and key market indicators. The platform incorporates leading exchanges like Gemini, Kraken, Bittrex and Bitstamp, and nine coins including Bitcoin, Ethereum, and Litecoin.
Zero Commissions or Fees: There are no commissions or fees for opening an account, trading, or making withdrawals when using Motocho.
Secure Platform: Motocho.io is registered with the Department of Treasury as a Money Services Business (MSB) and customers' Personally Identifiable Information (PII) is kept safe and secure through AES-256 encryption and password hashing. Funds are backed by crypto insurance coverage provided by Coincover for up to $500,000.
"Motocho has built an impressive, consumer-friendly fintech app for multi-exchange trading with smart order routing, while also providing the tools to optimize the user trading experience to fill trade orders at the best price and speed," said Martine Niejadlik, advisor and former chief compliance officer of Coinbase. "With significant strides in regulatory compliance and security, I believe Motocho is well-positioned to become a major player in the industry in the coming months and years."
Motocho is now in open beta in select states. To request early access, please go to http://www.motocho.io to be added to the waitlist. Invitations will be delivered on a rolling basis.
About Motocho
Motocho is a consumer-focused metasearch and smart order routing platform that seamlessly optimizes crypto trading and portfolio management. Motocho empowers retail investors with an efficient, transparent and secure single platform for buying, selling, storing and managing digital assets and provides a consolidated overview of their entire portfolio's performance. Motocho connects to all major crypto exchanges and gathers cross-exchange data in real-time, allowing transactions to execute across multiple markets and globally aggregated order books to secure the best available terms and price – all commission-free. For more information, please visit http://www.motocho.io, and follow the company on Facebook, LinkedIn and Twitter, and watch our explainer video on YouTube.