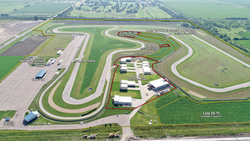 In this auction, like in the racing life, don't finish second.
HASTINGS, Neb. (PRWEB) September 17, 2019
Have you ever dreamed of owning a racetrack or waving the checkered flag? On October 9th, you have the opportunity to own every car enthusiasts daydream and drive as fast as you wish on a real working track.
The Motorsport Park Hastings (MPH) in Hastings, Nebraska will sell at absolute, no reserve public auction on October 9, 2019 at 5 PM. The auction consists of an SCCA Certified 2.14 Mile Road Course, buildings, equipment and 48 development lots along the raceway. The auction is being conducted by RES Auction Services of Wooster, Ohio and Ruhter Auction & Realty of Hastings, Nebraska. Full details on the auction are found at http://www.racetrackauction.com as well as the opportunity to request an offering package and links for online bidding on Proxibid.com.
RES Auction Services Owner and Auctioneer, Joseph Mast will lead the auction team as they sell this nationally recognized road course. "This is a once in a lifetime opportunity to own an important piece of the racing life," stated Mast. "We have the opportunity each year to sell classic muscle cars and high-performance automobiles. Rarely do we have the opportunity to sell a racetrack that is the perfect place to put those machines to the test."
George Anderson, the Managing Member of MPH shared the vision that became a reality in Hastings, Nebraska, "Our vision is to create a place for all motorsport enthusiasts to gather with friends new and old. Street cars, race cars, Track motorcycles, WKA Karting, grudge racing, and more. The atmosphere and experience make people want to come back to again and again. At Motorsports Park Hastings (MPH) stands for 'Make People Happy'."
"The mission at Motorsports Park Hastings is to create the ideal racing experience by having the safest, cleanest, most convenient track in the country," stated Ted Hughes an MPH Board Member and racing enthusiast. "I have been to racing facilities across the country, and this truly is one of the best."
The property will be sold without reserve to the highest bidder. The track has a full calendar of events each year, and the opportunity to sell or develop the property around the course is an added benefit to the new owner.
"At Motorsports Park Hastings the availability of privately-owned condos and garages offers a lifestyle of excitement with the convenience of a first-class racing facility." remarked Terry Klatt an MPH Board Member and owner of Klatt Motorsports. "These owners have a passion and true appreciation for motorsports."
"This auction is the chance to 'own the weekend' and continue the racing tradition here in Hastings," commented Randy Ruhter, Hall of Fame Auctioneer and founder of Ruhter Auction & Realty. "In this auction, like in the racing life, don't finish second."
To preview the property and have private tour please call (402) 463-8565.