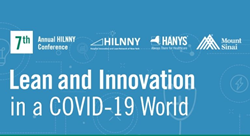 NEW YORK (PRWEB) October 07, 2020
Mount Sinai Health System will join the Healthcare Association of New York State (HANYS) and the Hospital Innovation and Lean Network of New York (HILNNY) in co-hosting the seventh annual HILNNY conference Lean and Innovation in a COVID-19 World on October 22-23, 2020. Healthcare leaders from medical centers across New York and beyond are expected to attend the virtual conference.
This year's conference will explore how Lean and innovation have been used during the COVID-19 pandemic and how healthcare organizations are leveraging them to redesign and rethink their processes for a post-COVID-19 world.
Several Mount Sinai leaders will be among the 31 speakers presenting at this year's conference. John Shook, Chairman of the Lean Global Network and Senior Advisor of the Lean Enterprise Institute, will give the keynote address: "Lean Thinking and Innovation during Crises." Mount Sinai experts will present "The Mount Sinai COVID-19 Experience" and "Bring it to the Lean Lab: How Mount Sinai Morningside Lead Team Supported Rapid PDCA during the COVID-19 Crisis."
To register, visit hanys.org/events/hilnny. Registration is open until Oct. 21.
Topics include:

Inpatient eConsults Address Increased Consultation Demand and PPE Preservation During COVID-19 Surge
Achieving Triple Time in a COVID-19 World
Bed Flow Optimization: Lessons from the COVID-19 Pandemic
COVID-19 Telehealth Innovation: Accessible Lean Processes for Patient and Clinician Safety
The Mount Sinai COVID-19 Experience
Bring it to the Lean Lab: How Mount Sinai Morningside Lean Team Supported Rapid PDCA During the COVID-19 Crisis
Implementing a Four-tiered Huddle Structure with Cascading A3s Utilizing Virtual and Physical Boards
Implementation of Critical Illness Recovery Program as a Collaborative Effort to Improve Discharge Outcomes for Individuals with COVID-19 Associated Critical Illness
Efficient Delivery of Medication for Chronic Conditions: A Response to the COVID-19 Crisis
Reprocessing N95 Masks with UV Light
###
About the Mount Sinai Health System
The Mount Sinai Health System is New York City's largest academic medical system, encompassing eight hospitals, a leading medical school, and a vast network of ambulatory practices throughout the greater New York region. Mount Sinai is a national and international source of unrivaled education, translational research and discovery, and collaborative clinical leadership ensuring that we deliver the highest quality care—from prevention to treatment of the most serious and complex human diseases. The Health System includes more than 7,200 physicians and features a robust and continually expanding network of multispecialty services, including more than 400 ambulatory practice locations throughout the five boroughs of New York City, Westchester, and Long Island. The Mount Sinai Hospital is ranked No. 14 on U.S. News & World Report's "Honor Roll" of the Top 20 Best Hospitals in the country and the Icahn School of Medicine as one of the Top 20 Best Medical Schools in the country. Mount Sinai Health System hospitals are consistently ranked regionally by specialty by U.S. News & World Report.
For more information, visit https://www.mountsinai.org or find Mount Sinai on Facebook, Twitter and YouTube.
About the Healthcare Association of New York State
The Healthcare Association of New York State, the statewide hospital and continuing care association in New York, represents nonprofit and public hospitals, nursing homes, home care agencies and other healthcare organizations. HANYS is a nonprofit corporation whose mission is to advance the health of individuals and communities by providing leadership, representation and service to healthcare providers and systems across the entire continuum of care.
About the Hospital Innovation and Lean Network of New York
HILNNY is a collaborative network that brings together Lean and innovation practitioners in hospitals and healthcare facilities across New York state to enhance learning and further the development of organizations' work in innovation, process improvement and change management.