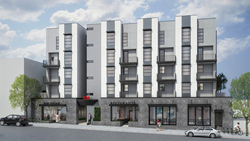 LOS ANGELES (PRWEB) July 29, 2020
Mountain Pacific Opportunity Partners, a Los Angeles-based capital provider for multifamily development with a focus on Opportunity Zones, announces the closing of 336 W. Seventh Street, a 34-unit mixed use development in San Pedro, Calif.
In partnership with South Bay Developers and ARK Construction & Development Inc., the $14M development is located on 14,400 square feet of well-located Opportunity Zone land within the San Pedro Waterfront Arts District. The project broke ground last week, July 22, and is slated for completion in Summer 2022.
The five-story building will feature 32 apartments, including one-, two- and three-bedroom residences in addition to two two-story penthouses featuring one-bedroom a den, with three units designated as affordable housing. Additionally, the project will include 3,750 square feet of ground-floor commercial space intended for restaurant and retail tenants and parking for 44 vehicles.
"Currently, a large amount of capital is being deployed into the market with many new retail, mixed use and residential development projects happening in San Pedro. 336 W. Seventh Street not only provides a walkable downtown environment, but offers a short commute to Long Beach, South Bay and downtown Los Angeles," says Mountain Pacific Co-Founder and Principal Joan Kramer. "The project hits the right notes for a new build combined with heightened affordability in a market where there has not been a significant amount of construction over the past few years."
Designed by Breen Engineering, the contemporary podium-type building will include common amenities such as a fitness room, a landscaped open courtyard and a rooftop terrace offering ocean views.
The development is located in a walkable downtown environment on a downtown pedestrian focused street, within close proximity to restaurants, coffee shops and grocery as well as the San Pedro Public Market. For more information, please visit http://www.mntpac.com.
About Mountain Pacific Opportunity Partners
Mountain Pacific Opportunity Partners (MP) was founded in 2019 by Brian Shirken, Joan Kramer, and Josh Bloch to provide equity for real estate development and opportunistic value add transactions with a focus on opportunity zones. Along with a strong track record of investment returns, MP's value to investors and developers includes co-investment, attractive risk-adjusted returns, decisive and experienced management, transparency and clear reporting. MP brings investors into deals only after they are shovel ready, thus eliminating predevelopment and timing risks. Mountain Pacific Opportunity Partners, and its predecessor Mountain Capital Partners, have invested over $300 million in U.S. real estate, capitalizing over $1 billion of development over the past 5 years.