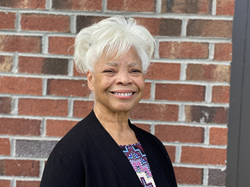 The work of Diversity, Equity, and Inclusion is important to ensuring that no one gets left on the sidelines, said Cheryl Collins.
ROCKVILLE, Md. (PRWEB) September 24, 2020
Move United has made two important organizational changes to help meet its Vision 2028 plan to expand support to youth and adults with physical disabilities, specifically those with diverse backgrounds.
As a strategic step toward expanding programming for diverse adaptive athletes, Move United has formed a Diversity, Equity & Inclusion Leadership Team empowered to provide strategic insight, direction, and recommendations to the Executive Director as to how the organization should commit financial, operational and human resources to meet this expansion opportunity.
This team includes leaders in the adaptive sports movement with diverse perspectives and experiences. This team will regularly meet to assess how Move United can better serve persons with disabilities, particularly those of diverse backgrounds. Members will help identify the gaps and barriers in the adaptive sports field and act as champions of necessary change. Committee members include Staff Sergeant Eric Alva (US Marine Corps-Retired), Private First Class Tony Drees (US Army-Retired), Paralympic Gold Medalist and Retired US Army Sergeant Kari Miller-Ortiz, Walter Reed National Military Medical Center Adaptive Sports Program Manager Harvey Naranjo, Move United Senior Education Manager Krista Rappoccio, Paralympian and North Carolina Central University Professor Dr. Andrea Woodson-Smith, and Adaptive Snowboarding Coach Reggie Showers.
In an additional step toward reaching individuals with disabilities in diverse communities, Move United has created the new position of Director of Diversity, Equity, and Inclusion to oversee and direct this initiative, reporting directly to the Executive Director. Move United is pleased to announce that Cheryl Collins, a longstanding and well respected member of the staff, has moved into this role.
As the Director of Diversity, Equity and Inclusion (DEI), Collins work ensures that Move United programming is inclusive and welcoming to a diversity of people, ideas, perspectives and experiences. She does this through a variety of initiatives, including leading the DEI Leadership Team, launching a mentorship program that will promote diversity in adaptive sports leadership, and challenging Move United staff on issues of diversity, equity, and inclusion. Collins brings two decades of experience with adaptive sports administration to this role, previously serving as Move United's Membership Director.
"The work of Diversity, Equity, and Inclusion is important to ensuring that no one gets left on the sidelines. Through my new role, I will work with the DEI Leadership Team to uplift and amplify a more diverse group within our community to ensure that even more people can experience the power of sport," Collins said.
"Move United's Vision 2028 reimagines what can happen when the inclusion of all people with disabilities occurs in sport," said Move United Executive Director Glenn Merry. "Move United is here to incite necessary conversations and change for a diverse and inclusive environment to fully represent the community we should serve."
For more information on the Move United DEI Leadership Team, visit https://www.moveunitedsport.org/diversity-equity-and-inclusion/.