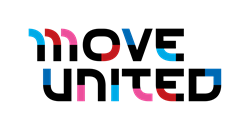 Move United is based on the concept that sport brings people together and drives them to achieve more. That is true even when we are apart, Move United Executive Directory Glenn Merry
ROCKVILLE, Md. (PRWEB) May 11, 2020
Move United's Annual Leadership Conference was originally slated to be an in-person event in Colorado Springs, CO in partnership with the U.S. Olympic and Paralympic Committee. However, due to the COVID-19 pandemic, the organization adapted to the new environment, moving the event online. A first for the organization, the online platform provides constituents new accessibility to training and education opportunities. The conference delivers more than 25 sessions over five days, May 11-15, 2020.
Thanks to the generous support of the Bob Woodruff Foundation, coupled with additional investment by Move United, registration fees for the conference are being waived. The result has been increased access, broader information sharing, and extended community connections beyond the existing Move United membership network.
"Move United is based on the concept that sport brings people together and drives them to achieve more. That is true even when we are apart," said Move United Executive Director Glenn Merry. "During this period of COVID-19, it is more important than ever to adapt. Our decision to move to an online format follows the successful launch of #AdaptAtHome, a health and fitness campaign delivering daily online live videos for our athletes to remain active. We are removing barriers to participation in order to bring people together, working collaboratively to support the health and wellbeing of people of all abilities." To date, the Adapt At Home initiative has delivered more than 330 live and on-demand adaptive health and fitness classes during the past six weeks.
The Leadership Conference is part of Move United's education program which has provided adaptive sports training to more than 2,000 people from 325 organizations across the country. Historically a hands-on, experiential learning and networking experience, the new stay-at-home environment has driven the adaptation to online content and discussions. Move United has seen a more than five-fold increase in conference registration. Over 1,300 people from across the country have signed up to participate.
On Monday, May 11, the 2020 Move United Virtual Leadership Conference will open with a keynote presentation entitled "Road Map to the Future," featuring Merry and Move United's Director of Competition Susan Rossi, who will discuss the future of adaptive sports.
Throughout the week, a series of sessions follow designated themes planned for each day:
Tuesday, May 12: Pathways to the Paralympics
Wednesday, May 13: Organization Management and Development
Thursday, May 14: Inclusive Outdoor Recreation
Friday, May 15: Membership Network Insights.
The week will close with a keynote presentation from Paralympic hopeful, Cassandra Grenier.
Move United Education promotes professional development for the adaptive sport industry through education and training. In the past year, Move United has committed nearly a half-million dollars to train hundreds of instructors and coaches around the country. Peer-to-peer knowledge sharing is the cornerstone of Move United's education and training events and has shaped each leadership conference since 2009.
For more information on the Move United Virtual Leadership Conference, or to register, visit http://www.moveunitedsport.org/conference.