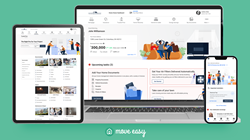 "While there are a number of personal finance apps that help homeowners, until now there hasn't been a way for people to manage their most valuable asset. That's what we've created with MoveEasy, an all-in-one platform simplifying every aspect of homeownership." - MoveEasy CEO Venkatesh Ganapathy
COLUMBUS, Ohio (PRWEB) December 07, 2022
MoveEasy, the country's leading home management platform and concierge service, today announced $7 million in Series A funding, led by Moderne Ventures with a strategic investment by The Travelers Companies, Inc. MoveEasy previously raised $3.5M in seed funding from investors including Breaktrail Ventures, New Valley Ventures, Loud Capital and Pete Kight. The new capital will be used to accelerate product development, talent and expansion of its platform into new categories.
MoveEasy is the nation's first fully integrated white labeled home management platform, empowering real estate brokerages, agents and mortgage partners to deliver unmatched value to clients. MoveEasy's platform and app provide clients with a holistic view of every decision that they make as homeowners – whether they are buying, selling, moving or managing their existing home.
"While there are a number of personal finance apps that help homeowners manage subscriptions and save money, until now there hasn't been a way for people to manage their most valuable asset," said MoveEasy CEO Venkatesh Ganapathy. "That's what we've created with MoveEasy, an all-in-one platform simplifying every aspect of homeownership. With this new capital, we're investing deeply in innovation and people that extend our leadership position in the real estate industry, while also empowering partners across mortgage, insurance, and other sectors to deliver more value to clients."
Why MoveEasy
With new client acquisition costs at an all-time high, client loyalty efforts have never been more important for real estate agents and brokers. And yet, the real estate industry continues to have a loyalty gap - with just 12% of homeowners choosing to work with the same agent again.
MoveEasy solves these challenges, allowing real estate partners to personalize their client experience by anticipating every homeowner decision. Agents can automate communications, share timely reminders on home-related tasks, and surface insights and exclusive discounts for top service providers across categories.
Using MoveEasy's 360 dashboard and app, homeowners can compare hundreds of service providers including home insurance, internet and cable, home protection, energy, utilities, solar, and home improvement. MoveEasy's savings monitoring tool also automatically searches for the best prices, driving enhanced savings.
Clients can also apply for new loans or refinance through their brokerage's mortgage partners, instantly check their home value, budget for home-related expenses, and see how every home update they make improves their home value and equity over time.
All this builds on what is perhaps MoveEasy's most unique feature: every client is provided with a dedicated human concierge – available via phone, text or email to help with any moving or home management request while fully white labeled for the brand across all platforms.
"In today's shifting market, real estate firms have an imperative to embrace innovation and adopt new ways to deliver value to clients across their entire journey as homeowners," said Constance Freedman, Founder and Managing Partner at Moderne Ventures. "MoveEasy is at the forefront of this change, delivering a best-in-class solution for home management that empowers brokerages and agents like never before. We are thrilled to lead this investment round and partner with MoveEasy as they continue to reshape the industry and provide homeowners with the tools they need to manage all things home."
MoveEasy continues to build momentum with homeowners and partners across industries
Since the beginning of 2020, MoveEasy has rapidly grown its customer base with more than 130,000 real estate agents and 1M homeowners now having access to its platform – leading to a 400% increase in revenue. Berkshire Hathaway HomeServices, Century 21, Howard Hanna, Douglas Elliman and RE/MAX are just some of major real estate partners nationwide that have adopted MoveEasy to deliver stellar service to clients.
"Improving client engagement and loyalty starts with delivering value across every step in the homeowner journey" said Ganapathy. "MoveEasy empowers partners to create a stronger loyalty connection for their brand, while providing clients with an intuitive UI offering the broadcast spectrum of home related services on one platform."
Cutting costs in the current economic environment has become increasingly difficult for companies and consumers alike. In addition to saving each homeowner an average of $420 a year, MoveEasy helps partners achieve an 18-20% lift to their core ancillary services as well as revenue for ancillary services directly integrated through the platform while providing significant improvements in client engagement, loyalty and referrals.
About MoveEasy:
MoveEasy is the industry's first comprehensive home management and concierge platform designed to help the 139M homeowners in the US with all their moving and home management needs. MoveEasy's 360° dashboard provides access to service providers across multiple categories, a built-in savings calculator, a concierge service, and more. For real estate partners, MoveEasy is a fully white labeled turnkey concierge solution that helps partners customize and brand the platform to offer a true end to end lifetime concierge service for their clients. Today MoveEasy works with several national and regional clients in the real estate, insurance, mortgage, moving and corporate relocation sectors. For more information, visit http://www.moveeasy.com
About Moderne Ventures:
Moderne Ventures is a strategic venture capital firm approaching $450 AUM. Moderne invests in technology companies in and around the multi-trillion-dollar industries of real estate, finance, insurance, ESG, and home services. It has both a Fund and an Industry Immersion Program, the Moderne Passport, designed to foster innovation, partnership and growth between industry partners and new emerging technology companies. Moderne has built an extraordinary network of over 700 executives and corporations within its core industries and evaluates over 4,500 emerging tech companies each year. Moderne most often looks outside its industries to find technologies that can be applicable within them, and it has invested in over 135 companies across its funds. Moderne has built a stellar track record investing in companies like DocuSign, Porch, Hippo, Homesnap, Caribou, Xeal and ICON. For more information, visit http://www.moderneventures.com.