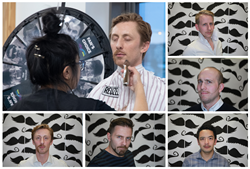 "Clinicians were really excited to have something fresh and fun to wear."
EDMONTON, Alberta (PRWEB) December 18, 2018
Since 2003, men all over the world have grown out their facial hair in awe-inspiring, interesting and sometimes even embarrassing ways to raise money for and awareness about men's health issues.
In 2018, Edmonton-based, global medical device manufacturer, priMED Medical Products went the extra mile by encouraging doctors and nurses across Canada to cover up their faces with a fun moustache patterned mask, to support its campaign to raise additional funds and awareness.
The campaign, known as "Masks for Mos," had priMED replace inventory within supporting Canadian hospitals, as it delivered masks with moustache patterned prints to substitute the standard colours typically ordered. Throughout the month of November, clinicians across the country donned the whimsical prints and took to social media to show their support, while priMED donated a portion of all its face mask revenue to the Movember Foundation.
"We wanted to make this campaign both fun and easy for the hospitals and clinicians to participate," says Medical Face Mask Product Manager, Taylor Davis. "Clinicians were really excited to have something fresh and fun to wear, and there was literally no additional cost to the hospitals to take part. It was a big win for everyone involved."
Over the course of the month, the highly targeted Masks for Mos campaign saw over 52,000 views by clinicians on Facebook and Instagram, and enabled priMED to raise $10,000 for the Movember Foundation. With the success realized, Davis hopes to see the inaugural promotion gain momentum in the future. "Ultimately our goal is to raise awareness about men's health issues," Davis explains. "We hope others see the fun and engagement clinicians had with this campaign, and it inspires hospitals in every Canadian community to join the program in 2019."
For more information:
Masks for Mos Campaign Contact:
Taylor Davis, Medical Face Mask Product Manager
Taylor.Davis(at)priMED.ca
Media Contact:
Craig Blackburn, Senior Brand Manager
Craig.Blackburn(at)priMED.ca
priMED Medical Products
#200, 2003-91 Street SW
Edmonton, Alberta T6X 0W8
Phone: 780 497 7600
Web: priMED.ca
About priMED Medical Products:
Established in 1995, priMED Medical Products is a dynamic, global manufacturer specializing in high-quality medical products. As a leading Canadian medical product provider to hospitals, clinics and long-term care facilities, priMED also offers branded, co-branded and private label products and services to its customers and international partners.
About Masks for Mos:
priMED's Masks for Mos campaign supplied hospitals across Canada with moustache patterned face masks to generate awareness of men's health issues and raise funds for the Movember Foundation. The masks brought smiles to the faces of clinicians and patients alike, and gave priMED staff the opportunity to have some fun in support of an important cause.
About the Movember Foundation:
The Movember Foundation has one goal: to stop men dying too young. As the leading charity changing the face of men's health, the Foundation supports the following causes: prostate cancer, testicular cancer, mental health and suicide prevention. Since 2003, the support of more than 5 million men and women has funded over 1,200 innovative projects across 20 countries. To donate or learn more, visit Movember.com.