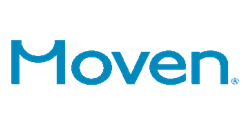 We welcome this opportunity to engage with Moven to transform and revolutionize the digital banking industry. Mohammed Muzammil Riyaz, Senior Vice President CSG
NEW YORK (PRWEB) April 26, 2021
Moven, the only fintech solution that holds a US patent for financial wellness, has announced its partnership with Centre Systems Group (CSG), a significant player in disruptive solutions to financial services companies throughout the Gulf states and beyond.
Moven turns data into actionable insights that improve financial health through embedded smart-banking experiences. Solutions are offered through companion apps, SDKs, and APIs, which include a total bank-in-a-box solution as well.
The company can also provide it's one-of-a-kind UX as a front end to a challenger bank that allows established banks and credit unions the ability to launch a new challenger bank seamlessly, or to provide a banking platform for FinTech's.
CSG is an influential technology company providing a varied range of IT-enabled services with a strong and growing reputation in financial services solutions in key markets around the world, particularly in the Middle East, Asia, and Australia. The company's strength is working with select partners around the globe to deliver world-class innovative solutions to its customers.
"Moven continues to build its global footprint via partnerships in international markets," said Bryan Clagett, Chief Revenue Officer at Moven. "Centre Systems has an excellent reputation in the Gulf Region and beyond, and we look forward to working with Muzammil and his team as we help bankers modernize their mobile banking environments."
"We welcome this opportunity to engage with Moven to transform and revolutionize the digital banking industry," noted Mohammed Muzammil Riyaz, Senior Vice President at CSG, "and it sets forth a precedent of delivery quality services for fintechs."
At the beginning of 2020, just 3% of US consumers considered a digital bank to be their primary bank. By the end of the year, that percentage had grown nearly 400%.
Challenger banks will continue to drive deposit displacement from brick and mortar banks, and the Moven/Centre Systems Group collaboration will allow financial institutions to build new digital bank solutions, and drive revenue from day one.
About Moven
Moven has been a leader in providing innovative technology solutions to financial institutions for over a decade. Partners have relied on Moven's patented data-driven Financial Wellness® platform to deliver real-time insights into their customers, resulting in reduced attrition, increased engagement, and revenue enhancement opportunities. Moven pioneered the concept of alternative consumer financial profiles with CredScore®, a proprietary scoring metric based on generally accepted financial wellness principles.
Offering three unique delivery options, Moven is well positioned to support customized models exclusive to the needs of individual financial institutions. To learn more, visit moven.com.
About Centre Systems Group
CSG is an internationally recognized disruptive technology consulting firm headquartered in Dubai, UAE. It's focused on providing a range of fintech consulting services, digital transformation services, resilience management services, and blockchain application platforms worldwide as well as working with Gulf nations in establishing digital banking protocols. With multiple branches around the world they have delved into Digital banking with aim of premium services in a budding market.