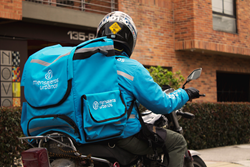 "The company's express delivery services are blossoming rapidly and we see a lot of synergies with our business strategy and expansion objectives," said Patrick Hruby, CEO of Movile Group
SAO PAULO (PRWEB) July 07, 2020
Movile Group, an ecosystem of leading technology companies in Latin America, today announced a new investment in Mensajeros Urbanos, a Colombian express delivery platform. The company aims to expand its operations in the ten cities where it operates in Colombia, in addition to Mexico, where it started operations in the beginning of 2020.
Mensajeros Urbanos is a leader for express deliveries in Spanish-speaking Latin American countries with more than 1.2 million deliveries per month. With the new investment, the company's planned expansion will focus on three fronts: new services, technology and an increased footprint in Latin America. The company will open 50 urban warehouses within the major cities it serves to reduce delivery time windows further and provide certain items for same-day delivery. In addition, new features will include the ability for customers to check if the products they wish to purchase are available for same-day delivery.
AI technology will increasingly support the delivery process through improvements in logistics efficiency and the designation of delivery partners to ensure products reach consumers in a safe and quick manner. "This is an ideal time for us to expand our operations and introduce innovative new services. Movile's investment will allow us to grow our footprint, increase our logistics efficiency and provide superior customer service," said Santiago Pineda, CEO of Mensajeros Urbanos.
For Movile, this is another step in the expansion and growth of its Latin American operations following the announcement in early April that iFood, a Movile Group company, merged its Colombian operations with Domicilios.com. "We have been supporting Mensajeros Urbanos for several years now and the team's ability to execute with streamlined resources and build a solid leader in last mile logistics in Colombia and now Mexico continues to impress us. The company's express delivery services are blossoming rapidly and we see a lot of synergies with our business strategy and expansion objectives," said Patrick Hruby, CEO of Movile Group.
About Mensajeros Urbanos
Mensajeros Urbanos is a technology company that connects the largest and most diverse logistics network (bikes, motorcycles, cars, vans, trucks and micro-warehouses) in Latin America with relevant companies of various industries, such as, courier, e-commerce, restaurants, pharmacies, supermarkets, convenience stores, retailers and CPG companies, for more than seven years. With our tech solutions, we optimize our clients' time and costs throughout their last-mile process connecting companies to a vast and diverse network of logistics resources with our AI-powered platform to achieve greater efficiency in their supply chain.
About Movile Group
Movile Group is an ecosystem of leading technology companies in Latin America, and has a big dream to make the lives of 1 billion people better through its applications. With global operations, the company has more than 4,000 employees at seven companies including iFood, Mensajeros Urbanos, MovilePay, PlayKids, Sympla, Wavy and Zoop. In 2019, Movile began supporting the 1Bi Foundation, with the objective of promoting technology projects for social impact. In addition, it was nominated as the technology company most desired by Brazilian professionals according to LinkedIn's Top Companies ranking in Brazil.
Media Contacts
Brazil:
Olivia Nercessian
+55 11 95433-0000
olivia.nercessian@movile.com
United States:
Chris Knight
+1 (415) 786-9226 c.
chris@divinogroup.net