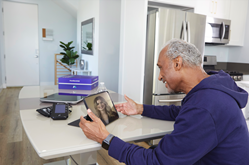 Our partners trust us to keep their data save. A SOC 2 Type 2 report confirms that we take this responsibility seriously.
IRVINE, Calif. (PRWEB) February 14, 2023
Moving Analytics, leading provider of virtual cardiac rehabilitation and prevention, announced that it has successfully passed the American Institute of Certified Public Accountants (AICPA) Service Organization Control (SOC) 2 Examination and has received the SOC 2 Type 2 report. This affirms the company's strong data-security protocols.
The report follows a rigorous audit, conducted by a third party, that examined five areas:

Security: The company protects information from physical and logical unauthorized access.
Availability: Customers can readily access the system for information.
Processing Integrity: The company can process information in a timely manner.
Confidentiality: The company secures sensitive information with appropriate controls.
Privacy: The company works in accordance with its privacy notice.
Only companies that meet high global standards in every area receive the report.
"Our partners trust us to keep their data safe," said Shuo Qiao, Chief Technology Officer for Moving Analytics. "A SOC 2 Type 2 report confirms that we take this responsibility seriously. We manage multiple layers of protection to safeguard information, and we are proud that our systems and protocols have been recognized at this level."
While data security is critical in every industry, it is especially important for healthcare companies because personal health information (PHI) is a high-value target for cybercriminals. Receiving a SOC 2 Type 2 certification provides third-party validation that a company is prioritizing data security and putting the safety and security of customers first.
The certification builds on Moving Analytics' earlier certification for HITRUST, making it the only virtual cardiac rehabilitation solution to achieve both milestones.
About Moving Analytics
Moving Analytics is the leading national telehealth provider of remote cardiac rehab and cardiovascular prevention programs. The company combines evidence-based guidelines, behavioral science, remote monitoring, and telehealth coaching to engage patients to adopt heart-healthy lifestyles and improve their wellbeing. Moving Analytics developed its programs in partnership with Stanford University, based on more than 30 years of published research. Patients in Moving Analytics' programs exercise more, have better medication adherence, lower blood pressure, lower rates of depression/anxiety, and lower rates of hospital readmission.