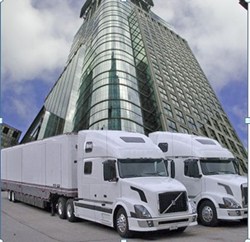 Los Angeles, CA (PRWEB) August 07, 2013
Los Angeles Commercial Movers share knowledge on how to move a refrigerator. Clips from the piece include:
Step 1: Gather Supplies
Large moving dolly
Rope or strong cord and/or moving straps
Cleaning supplies
Plain paper or moving blankets
Packing tape
Scissors
Marker or labels
Time required: 12 hours
Step 2: Clear Out the Contents
Remove all contents, including freezer items. Give away perishables and pack up items that you're going to take with you. Remember, if you're moving a long distance, leave refrigerated items behind. Remove and pack magnets and any items that are on top of the fridge.
Unplug the refrigerator and let the freezer defrost. This will usually take at least 6-8 hours depending on the state of the freezer. It's best to defrost it overnight, which will allow you enough time in the morning to wipe out the inside.
Remove all shelves and other loose items. If you prefer, tape the fridge drawers closed (be careful that tape doesn't leave a mark) or remove them. Wrap the shelves with moving blankets, towels or plain paper to protect them during the move. Label the shelves appropriately.
Turn off the power source and wrap the cord, securing it so it doesn't get caught while moving.
Secure the doors. With a strong cord or rope, tie the doors closed by wrapping the cord around the fridge. If you have a double-door, tie the doors together tightly. Tape will work as well, but just remember that when you remove the tape, the paint surface might be disturbed.
The Los Angeles movers provide free, non-binding moving estimates, and works with business owners on setting up a moving plan to relocate an office in the quickest and most efficient manner possible. They provide their own packing supplies, and can pack an entire commercial space. They can move electrical equipment, medical equipment, clothing racks, window displays, take down and put up cubicles, move filing cabinets, etc.
For more information, visit losangelescommercialmovers.com.