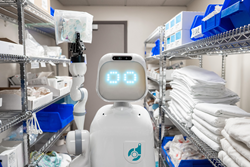 AUSTIN, Texas (PRWEB) November 26, 2019
Last week, TIME revealed its annual list of the 100 Best Inventions that are making the world better, smarter and even a bit more fun including Moxi, the robot helping hospitals.
Created by Diligent Robotics, the A.I. company building socially intelligent robots that help people with their jobs, Moxi helps nurses with their non-patient facing tasks such as gathering supplies and delivering lab samples so that nurses have more time for patient care. Recently launched out of beta phase with the company's first two full-time hospital partners, Medical City Heart Hospital and Medical City Spine Hospital, Moxi is the first socially intelligent robot to enter hospitals that can complete tasks end-to-end with its mobile base, navigational sensors, flexible arm and precise gripper hand.
To assemble the 2019 TIME Best Inventions list, TIME solicited nominations across a variety of categories from editors and correspondents around the world, as well as through an online application process. Each contender was then evaluated on key factors, including originality, effectiveness, ambition and influence. The result: 100 groundbreaking inventions that are changing the way we live, work, play and think about what's possible.
See the full list here: https://time.com/collection/best-inventions-2019/
See the feature of Moxi here: https://time.com/collection/best-inventions-2019/5733102/diligent-robotics-moxi/
About Diligent Robotics
Founded in 2017, Diligent Robotics is the A.I. company creating socially intelligent robot assistants that help humans with their chores so humans have more time to focus on the work they care most about. Moxi is Diligent Robotics' hospital robot assistant that helps nurses with routine, non-patient-facing tasks so that nurses have more time for patient care and hospitals improve staff burnout, turnover costs and workflow efficiencies. Diligent Robotics launched Moxi into beta phase in September 2018 and conducted successful trials at several US hospitals where Moxi focused on tasks such as gathering and delivering patient room supplies, delivering lab samples and retrieving items from central supply. Moxi launched out of beta into market with full-time hospital partners in October 2019. Founded by social robotics industry experts, Diligent Robotics is proud to create robot assistants that are both socially acceptable and efficient with mobile manipulation, social intelligence and human-guided learning capabilities. Diligent Robotics believes that by giving humans the resources they need to do the work they care most about, they will transform the meaning of "work." http://www.diligentrobots.com