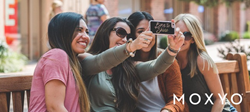 LEHI, Utah (PRWEB) September 28, 2018
Moxyo®, a modern mobile accessory line that crafts high-quality, trendy products at affordable prices, unveils their rebrand with a new female-focused fall collection.
Moxyo is moving in a new direction based on the success of their original Showtime Glitter glass screen protector. The brand supports female empowerment through mobile device accessories that are modern, functional, and accessible.
"Our goal is to create unique, on-trend accessories that encourage you to chase your dreams, inspire you to do good and empower you to be independent," said Taylor Street, Moxyo brand manager. "We want women to be energized by the accessories they choose for their device. Plus, everyone can use a little sparkle in their life."
Collection items include:

Glitter Waterfall Case—Clear polycarbonate protective smartphone case with a custom-designed, inspiring message. Available now in "Good Vibes" and "Born to Shine" for the iPhone 6/7/8, iPhone 6/7/8 Plus, and iPhone X/Xs.
Metallic Nylon-Braided Charging Cable—Three-foot lightning cables available in pink, gold, and blue. These cables are designed to "empower" women by providing power solutions.
Other glitter products include Showtime Glitter glass—a tempered glass screen protector with a layer of glitter that appears when your phone is off, and Showtime Glitter case—an ultra-thin, glitter-infused case delivering style and fun in a scratch-resistant package.
Moxyo's inventory of past season cases, screen protection, cables, earbuds, and portable power products are still available for purchase online at Moxyo.com.
About Moxyo
Inspired by people, the city and music, Moxyo creates fashionably-current, modern accessories for you™. Affordably priced mobile accessories include cases, earbuds, cables and power options that are crafted with the quality, function and fashion that you would expect at twice the price point. For more information, visit Moxyo.com.
About Parent Company BGZ brands™
BGZ brands' mission is to enhance our customers' lifestyles through branded products and services of elevated value and quality. Formerly known as BodyGuardz, BGZ brands has become the powerhouse parent company of three distinct consumer electronic accessory brands—BodyGuardz®, a leading device protection company; Lander®, Gear Made Modern™; and Moxyo, modern accessories for you™. For more information, visit http://www.bgzbrands.com.