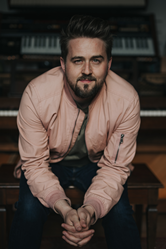 NEW YORK (PRWEB) August 03, 2021
MPress Records recording artist and Grammy® nominee Seth Glier has just released "One Of Us" (featuring Raye Zaragoza), his second single from his forthcoming album. The Coronation will be out on August 20th, and the video and track were just premiered by Americana Highways.
Glier says of "One Of Us": "I wanted to strip this song down to its beams but still have it feel modern. The keyboard is my Juno 60 and I'm joined by Raye Zaragoza on this track, who added a whole other haunting element to this song. Raye is one of my favorite musicians out there right now, so it's a real treat to have her with me."
Produced and sung by Glier (who plays the Juno), and joined on vocals by Raye Zaragoza, the version of the song captures the universality of the original while adding an ethereal feel. Grounding the song is an earthy pedal steel, played by Ryan Hommel (Amos Lee, Heather Maloney). Originally released by Joan Osborne (written by Eric Bazilian), Glier elaborates "I think Eric Bazilian caught a whale when he wrote 'One of Us.' The idea is so huge and the delivery is so simple. There is a sense of God's loneliness in this song that I related so strongly with. Eric's question 'Would you want to see, if seeing meant that you would have to believe?' felt so appropriate to the theme of this album. Am I willing to be accountable to what you know to be true?"
The Coronation is Glier's sixth album on MPress Records, and is a beautiful and powerful collection that explores an expansive range of musical styles and topics from the personal to the political. A Grammy®-nominated singer-songwriter, producer, and multi-instrumentalist from Western Massachusetts, Glier has also won five Independent Music Awards. NPR describes his voice as "otherworldly" while praising him as "an engaging performer and storyteller." His critically acclaimed, emotionally dense catalog of work often draws upon traditional roots music, experimental instrumentation, and moody atmospheres that result in soulfully intelligent stories that can alternately fight the power and break your heart.
For more information, please contact:
Jill Richmond-Johnson | jillr@mpressrecords.com | 212-481-7243
The Coronation is Grammy® Nominee Seth Glier's 6th album on MPress Records, following Birds (2017), If I Could Change One Thing (2015), Things I Should Let You Know (2013), The Next Right Thing (2011), and The Trouble With People (2009). His music has taken him around the world, including to China where he participated in a U.S. State Department-sponsored cultural diplomacy tour as international ambassador. He has shared stages with a diverse list of artists including Ani DiFranco, James Taylor, Lisa Marie Presley, Martin Sexton, Ronnie Spector, Marc Cohn and more, and recorded a duet with American Idol alum Crystal Bowersox. A tireless activist, Seth has worked with The Parkland Project, ChildFund International, Rock The Vote, and has also been a TEDx Speaker. For more information, visit http://sethglier.com.