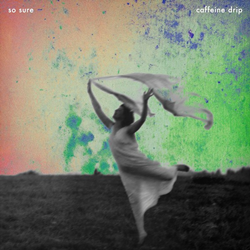 NEW YORK (PRWEB) July 10, 2020
MPress Records recording artists So Sure have released their debut EP Caffeine Drip, with 100% of the proceeds being donated to the ACLU to aid in their advocacy efforts to demand an end to racial injustice and police brutality. The band features Sean and Brendan Kelly from A Fragile Tomorrow, and drummer Kyle Polk (The Explorers Club).
The full EP, available on all digital platforms and premiered by The Big Takeover, is the first offering from So Sure, which was officially formed during the Covid-19 pandemic. The EP features songs that are all-too-timely and reflect the international frustration and anxiety due to the virus and recent protests sparked by the tragedy in Minneapolis. Initially, the group's bond was their common love of bands such as My Bloody Valentine, The Jesus and Mary Chain, Slowdive, and the Cocteau Twins. And a front-to-back live performance together of My Bloody Valentine's seminal Loveless album sealed the deal.
Sean states, "It was personally great to explore this (style of) music that I've loved for so long. In the end, we had five songs that I think felt great to everyone. We started talking with Kyle about this idea we had of starting a shoegaze band, and he was into it. The exciting thing about So Sure is that there seems to be so much more to explore with this band". With Sean (vocals, guitars, bass, synth, mellotron), Brendon (guitars, bass, synth, programming), and Kyle (drums, percussion, pads), this seasoned group of musicians have created a brilliant EP and will be touring as soon as allowed.
For interview/feature inquiries and photographs for So Sure please contact:
Jill Richmond Johnson | jillr@mpressrecords.com | 212-481-7243
ABOUT SO SURE
The band features Sean and Brendan Kelly from MPress recording artists A Fragile Tomorrow. AFT (which also includes brother Dom Kelly and Shaun Rhoades), released 4 albums ("Wishful Thinking", "Beautiful Noise", "Tripping Over Nothing" and "Be Nice Be Careful") before releasing their Independent Music Award winning debut album "Make Me Over" for MPress Records. They have collaborated and recorded with Indigo Girls on several projects, and have shared stages with artists including Indigo Girls, Drivin' N Cryin' and Matthew Sweet. Kyle Polk hails from The Explorers Club, coined as "Sunshine/Soft Pop-Rock" music, and is heavily influenced by the vocal harmony styles and production of the Beach Boys. Other inspirations include The Zombies and the Birds. They have put out 3 studio albums, including the 2016 release of "Together", which features members of Brian Wilson's band. So Sure's self-produced "Caffeine Drip" was recorded remotely between Savannah, GA, Montgomery, NY and Charleston, SC.