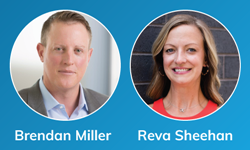 Digital health is transforming care delivery, which is the future of healthcare. We continue to invest in solutions that focus on engaging every healthcare consumer as part of this new system of healthcare, with a special focus on health equity and engaging historically underserved populations
LOS ANGELES (PRWEB) October 08, 2020
mPulse Mobile, the leader in Conversational AI for healthcare, today announced Brendan Miller as Chief Commercial Officer and Reva Sheehan as Government Programs Strategic Market Executive.
Miller's leadership position in the rapidly growing organization includes teams responsible for sales, partnerships, sales enablement, and marketing, driving toward meeting strategic business initiatives and proactively addressing health plan, health system, business partner, and government needs. With more than two decades of experience transforming healthcare delivery and scaling start-up to mature healthcare companies, most recently on the executive leadership team at Amwell, Miller is tasked with executing mPulse's growth strategy and evolving go-to-market channels.
"Our long-term relationships with enterprise customers and pushing ourselves to innovate to meet the needs of incoming customers has been key to our growth, and we are eager to build on those relationships," said mPulse Chief Executive Officer, Chris Nicholson. "Digital health is transforming care delivery, which is the future of healthcare. We continue to invest in solutions that focus on engaging every healthcare consumer as part of this new system of healthcare, with a special focus on health equity and engaging historically underserved populations. In this new era, we're confident Brendan's proven record of leading companies to growth and his deep healthcare experience will be a major asset to our organization."
In addition to Amwell, Miller served in leadership roles for MultiPlan, HealthMine, Wellness Corporate Solutions-LabCorp, and America's Health Insurance Plans.
Sheehan is an experienced government programs subject matter expert with more than 15 years of industry experience ranging from long-term care and compound pharmacy management to health plan quality and operations, most recently leading Medicare 5-Star Quality initiatives at Priority Health. She is tasked with enhancing mPulse's support of government plans through technology, relationships, and subject matter expertise.
"We have been so excited about our partnerships with Medicare and Medicaid plans throughout the country, as well as the important impact we have helped make on those key populations," said Nicholson. "Reva's experience, expertise in government plans, and passion for member experience is a perfect fit for our organization and will help us continue to build solutions for this segment."
About mPulse Mobile:
mPulse Mobile, the leader in Conversational AI solutions for the healthcare industry, drives improved health outcomes and business efficiencies by engaging individuals with tailored and meaningful dialogue. mPulse Mobile combines behavioral science, analytics and industry expertise that helps healthcare organizations activate their consumers to adopt healthy behaviors. With over a decade of experience, 100+ healthcare customers and more than 300 million conversations annually, mPulse Mobile has the data, the expertise and the solutions to drive healthy behavior change.