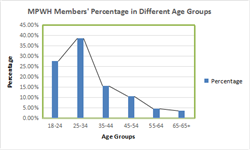 MPWH- NO.1 Herpes Dating Community. Love and Hope After H.
LOS ANGELES, CA (PRWEB) November 27, 2015
MPWH, the No.1 Herpes-only dating community in the world, revealed that over 50% of its members are under the age of 30 (see Table 1-1). More than 3.7 billion people under the age of 50 – or 67% of the population - are infected with Herpes simplex virus type 1 (HSV-1), according to WHO's first global estimates of HSV-1 infection.
"The data shocks us highly!" said Michelle Li, Co-Founder of the MPWH APP. "There are a huge number of people with Herpes and that is increasing rapidly. Those people tend to be younger."
Some people are so terrified because, if so many have Herpes, you probably have it too. "Anyone can get it." stated Rachel Feltman, reporter from the Washington Post. Herpes is transmitted by skin-to-skin contact and is spread by someone who carries the Herpes virus and has intimate contact with others. It's easily transmitted by a sexual partner who has the virus. Anyone can get Herpes if they are not protected well.
One anonymous member of MPWH said, "Is prevention or therapy the better method of treatment?" This member also expressed his confusion and worry about Herpes treatment.
Dr. Marleen Temmerman, Director of WHO's Department of Reproductive Health and Research, said, "Access to education and information on both types of Herpes and sexually transmitted infections is critical to protect young people's health before they become sexually active."
Added Michielle Li, "There are still too many people who don't know enough about Herpes. That is the main reason the number of infections keep rising. It is vital that we call on people to protect themselves from the virus."
More than a dating site, MPWH is trying to raise public awareness of Herpes and build support, hope, and confidence for those living with it. It's calling on people to work together to share knowledge and information. The goal is to help more and more people with Herpes.
About MPWH
MPWH – Meet People with Herpes – is a Herpes-only dating community that has emerged as the top choice for Herpes singles seeking love and partnership. It provides a stigma-free, friendly dating environment where the users' anonymity is maintained at all times. For more information on MPWH, visit MPWH.com
For Media Enquiry:
Contact Name: MPWH
Email: support(at)MPWH(dot)com
Website: http://www.mpwh.com
Press Kit: http://www.mpwh.com/press