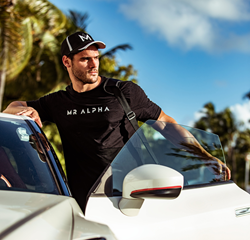 Anyone who has experienced success knows that through struggle, come great rewards. MR ALPHA is one of those rewards. - Val Naro, MR ALPHA Founder & CEO
MIAMI (PRWEB) November 25, 2019
MR ALPHA, an online retailer of premium fitness apparel, grooming products and nutritional supplements, announced today the launch of its new website http://www.mralpha.com. The new site features a streamlined modern design, improved user-friendly shopping experience, and easy access to hundreds of products aimed to make men's lives easier. MR ALPHA is a one stop shop for the young, successful man. Featuring premium fitness and casual apparel, quality grooming products, and nutritional supplements, MR ALPHA is a men's lifestyle brand that emphasizes comfort, well-being, and self-care.
"We are beyond excited to debut our new brand and website to our current customers, affiliate partners and all the men who like to live fast and want to look good while doing so," said Val Naro, MR ALPHA's Founder & CEO. "The MR ALPHA brand was created for those who value their time – which is why we made sure that the MR ALPHA website has user-friendly shopping features, quick product search, and a fast checkout process."
MR ALPHA offers apparel for fitness, leisure, and casual style. They are giving 'dress for success' a whole new meaning. With the MR ALPHA brand, you can go from lounging to pumping without breaking a sweat. They also offer compression shorts and leggings, tank tops, jackets, hoodies, and jogger pants in a variety of solid colors. Most of the apparel on http://www.mralpha.com is sweatshop-free, made from eco-friendly fabrics and is Made in USA and Central America.
Aside from apparel, MR ALPHA has all the men's grooming essentials. Their hair and skin care products are natural, cruelty free, sulfate free, and Made in the USA. While receding hairlines may look good on some, they're not for everyone. You can't change genetics, but you can change your hair care routine by adding MR ALPHA's hair growth support and scalp therapy products.
If grooming products and apparel doesn't interest you enough, MR ALPHA also features a range of nutritional supplements to help optimize fitness time for maximum benefits. Offering high quality pre-workout and post-workout products, MR ALPHA wants to make sure that your efforts do not go to waste while fat burning supplements help curb those mid-day cravings.
Visitors are encouraged to explore all of the product options MR ALPHA has to offer and sign up for MR ALPHA's weekly newsletter for sales, promotions and limited-time "Alpha Deals" at http://www.mralpha.com
About MR ALPHA: MR ALPHA was created for the "Modern Man". For those who are willing to go where others won't dare, those that are always hungry for more, and those that live an "evolve or die" motto. Anyone who has experienced success knows that through struggle, come great rewards. – MR ALPHA is one of those rewards. Created by Val Naro – a serial entrepreneur from Miami, FL, MR ALPHA aims to stand out from its competitors by offering a wide range of premium quality products for men through a "one-stop-shop" user-centric shopping platform.
For Press Inquiries:
Ashley Romero
press@mralpha.com
1-877-835-6665
SOURCE:
MR ALPHA
http://www.mralpha.com