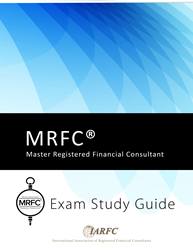 The availability of the MRFC Exam Study Guide has been the number one question I get from those inquiring about the exam. Judi Nelson and I are ready now to take your book orders and process your MRFC applications... Vicki Caplinger in Membership Services.."
MIDDLETOWN, Ohio (PRWEB) February 01, 2021
The MRFC exam is one component of a list of requirements to obtain the credential. Additional areas of Experience, Education, Licensing, Business Integrity, Continuing Education, when successfully fulfilled, elevate consultants to an elite body of financial professionals – all backed by the IARFC and the National Commission of Certifying Agencies (NCCA).
The exam is based on 13 sections, called a "Blueprint" that represent the key areas of practice for a financial consultant. Broken down further, these sections contain specific tasks that professionals deal with every day. From this specific and concise Blueprint created by industry professionals, the questions on the exam are written by Subject Matter experts. The Study Guide follows the Blueprint Exam Content with discussion on each of the tasks.
Written in an outline format to facilitate comprehension, it is easy to navigate the book sections, and is designed with the busy professional in mind who has limited time to study and whose time blocks come in uneven increments. At the end of each section are questions to test the reader's understanding of the material. It comes spiral bound in order to lay pages flat while taking notes.
Currently the Study Guide is available for purchase at the IARFC Store for $79.95 plus shipping and handling.
"The availability of the MRFC Exam Study Guide has been the number one question I get from those inquiring about the exam," relates Vicki Caplinger in Membership Services. "Judi Nelson and I are ready now to take your book orders and process your MRFC applications."
Members can easily order the Study Guide online. Copies are in stock and will be shipped out expediently. Questions can be addressed to vicki@iarfc.org or Judi@iarfc.org.